---
Study group leaders:
Have any new or interesting information,
pictures or updates to share?
Please e-mail to Alvira

---
Study group updates -- September 2023:

HERE'S TO A SWEET NEW YEAR, 5783!
"La Shanna Tova"

A perfect time to join a new Study Group!
We are proud of the unique Study Groups offered to our members!
Share good times and camaraderie as we support Brandeis University on its 75th Anniversary of academic excellence and commitment to social justice issues.

A complete list of Groups can be found on our website along with extensive general information.

(click here for study group grid)

Study Group VPs are:


---
At this time, groups are meeting in person, "Zooming", and a combination of both!
---
Brandeis Study Groups and Programs
---
---
FEATURED STUDY GROUP:

Gadabouts
The original On the Town couples' group is going strong: 3rd Sunday of the month. If you have an adventurous spirit and a passion for uncovering the treasures of great LA, look no further - this is the group that will ignite your passion for exploration. Brace yourself for an incredible array of activities, from visiting captivating museums and historical sites to immersing yourselves in concerts in the park, shows, movies, picnics and rejuvenating beach days - there is no limits to the possibilities. Come join in the fun!
Contact Alvira - etty10@hotmail.com

Hang Um All
Is a warm, friendly mixed group of couples and singles who enjoy discussing diverse issues that end up in our court system. Sometimes we discuss the people in the background who effect making or interpreting these laws. We zoom at 4:00 on the 4th Thursday of the month. We usually meet for dinner afterwards
Contact: Frona DeCovnick kidzathart@aol.com to join.

Trekkies - Men's On The Town Group
This new Men's Study Group is tentatively scheduled for the 3rd Thursday of the month, 11:00 am. Members visit stimulating venues as well as enjoy lunch. This group has openings and would love to add more members!
Contact: Alvira etty10@hotmail.com if you are interesting to join.

Drama Queens - theater group
We meet 2nd Sat at 2 pm if we Zoom or in person now that the weather is good. Each member serves one month as planner and selects a play, TV, movie or documentary to watch and we then get together to discuss, sometimes over lunch or dinner, sometimes on Zoom. It varies.
Our May event includes a play at Simi Valley and dinner before the show.
Contact: Frona DeCovnick kidzathart@aol.com to join.

Advances in Science
Advances in Science Is an exciting Men's discussion group meeting on Zoom the second Wednesday of the month at 1:00 pm. Members either present a topic or arrange for a guest to address an advance in science topic. Past discussions have included space exploration, GMOs, AI, gene therapy, aquaculture, and 3D Medical imaging. The group is looking to increase in size by 5 members! Contact: Alvira etty10@hotmail.com if you are interesting to join.


---
Groups in Planning Stages are in Red

Contact: Alvira Klain etty10@hotmail.com

Ethnic Dining
Participants must be willing to travel to locations outside your immediate community to widen the opportunities and choices for new dining adventures.

Genealogy Group:
Explore your family tree with the assistance of experienced group members; Sue, Dalya & Pat.

Museum, Art & Photography:
A new group proposed for Museum and Art lovers, for both men and women

Travel Group:
Men and women traveling together! Not an On the Town Group

Contact: Florence Prushan lorenceprushan@me.com

War - a multidimensional, historic/contemporary discussion: Mentioned in brief outline form at last month's meeting, here are the details: Military, diplomatic, philosophical, social, political & economic dimensions of human conflict. Defense policy, strategic planning, ethics, deterrence theory and discussing books and/or movies about war.

Social/emotional Support Group - Mentioned in brief outline form at last month's meeting, here are the details: for men or men and women, facilitated by a professional psychologist/Rabbi/or other clergy. Addressing spouses' disabilities, caregiver issues, bereavement, isolation, loneliness.

Finance: Financial risks discussed may include rising inflation, fluctuating interest rates, stock market volatility, and performance of retirement plans. Public policy risks could include the possibility of higher taxes and reduced benefits from Medicare and Social Security. Guest speakers.

New Men's Book group: historical fiction or nonfiction, subject matter may or may not include war; must be well written and preferably award inning books; book selection process by consensus. Initially will meet on zoom and when appropriate will meet live. This group has held a preliminary meeting with five prospective members and will open when there are additional members.

Wisdom: this group is open for men and woman.


---
STUDY GROUPS THAT CURRENTLY HAVE OPENINGS
For groups listed below, please contact each VP

(click here to send email directly to Alvira) etty10@hotmail.com
Study Groups with Available Space - Portfolio A: *Contact: Alvira Klain: etty10@gmail.com

Knosh and Knowledge: - lunch and learn group for women. Need more members. 4th Tuesday of the month at 11:30 AM.
Trekkies: New man on the town - 3rd Thursday, looking for more members.
Advances in Science 2nd Wednesday 1:00 pm ZOOM - Men's Discussion Group
Healthy Living: Ladies Group 2nd Thursday 10:00am in person - the group has 6 members and looking to expend. Meeting in person.
Gadabouts: - Couples On the Town, 3rd Sunday - have opening to 2-3 more couples.
Weekenders: Couples On the Town - meets every 2nd Saturday.
Divas2: Women's On the Town - meets every 3rd Thursday and have couple of opening.
Out of the Box: is looking for men or women for ZOOM meetings the third Friday of every month. Come build your critical thinking skills and learn more about how to dissect moral and ethical issues.



(click here to send email directly to Florence Prushan) florenceprushan@me.com
Tuesday Afternoon Readers: Women's Book Club 2nd Tuesday 11:30 am
Notable Women: Women's discussion group 2nd Monday 10:30 am
Let's Talk: Women's discussion group 2nd Wednesday 10:30 am
Bits n Pieces: Women's potpourri group 3rd Thursday 10am
Shabbatniks: Singles and couples group 3rd Friday evening
Time Travelers: Women's historical fiction book club 2nd Tuesday 3:30 pm
The Good Bad & Ugly: Women's discussion group 2nd Thursday 10:30 am
Talmud & Current Events: Women's group led by Rabbi Lisa 1st Wednesday 1:00pm



(click here to send email directly to Frona DeCovnick) kidzathart@aol.com
Drama Queens: Theater Group 2nd Saturday 2:00 pm (see Featured Group)
Current Events Mavens: Men's Current Events10 AM, 2nd Tuesday
Current Chicks: Women's Current Events Group 4th Wed. 10:30 am
Legal Eagles: Women's Legal Puzzler group 2nd Thursday 1pm
News Junkies: Men's Current Events group 4th Friday 10 am
Hang Em All:Legal Puzzler group 4th Thursday, 4pm
Women in the Know: Women's Current Event group 2nd Tuesday 1:00 pm
Movies & Shakers: Couples movie group - 2nd Sunday, 4pm movie discussion & dining


---
---
CLICK HERE FOR COMPREHENSIVE LIST of study groups so you can "shop around".

CLICK HERE FOR FULL Study Group Schedule
---

Social Justice Focus

No Cost for these events, just your helping hands and a smile!

Operation Gratitude proudly delivers Care Packages to deployed troops, first responders, military families, recruit graduates, veterans, wounded heroes, will be coming soon! Check our web site for next date!
VA Facility 9409 Owensmouth Ave Chatsworth


Social Justice VP CONTACT:
Iris Antell irisflower4@gmail.com

Rosanne Lieban Rosannelieban@gmail.com


---
---

THERE IS SOMETHING FOR EVERYONE!

---
Contact us if this or any other on the Study Group list interests you. Also check out the web site on regular bases to see more of what is available.

and DO NOT FORGET to RSVP.
---
We also feel that there are a few groups that really need defining:

"On the Town" groups go someplace exciting and interesting every month. That includes educational, recreational, dining, crafts, and charity excursions.

"Pot Pourri" groups are a combination of events. They include trips to places you will enjoy and discussion and demonstrations of interest.

"Life and Times" groups" discuss first a "woman of history" and then a topic of interest. These can range from what a first aid kit should include to an era in history.

"Lunch & Learn" group members enjoy a great lunch and a lecture from a person of interest arranged by the group's members.

Remember, if you have a question about any Study Group, contact the appropriate V.P.

~~~~~~~~~~~~~~~~~~~~~~~~~~~
Just a quick reminder. All those checks you are making out for Study Groups, don't forget to make them out to: "Brandeis University".

And, by the way, don't forget to renew your membership by either mailing in your check to National or online at giving.brandeis.edu/bncrenew



REMEMBER, IF YOU HAVE ANY STUDY GROUP QUESTIONS OR PROBLEMS, JUST CONTACT ONE OF THE THREE OF US AND WE WILL HELP YOU.
Alvira Klain: etty10@hotmail.com
Florence Prushan: florenceprushan@me.com
Frona DeCovnick: kidzathart@aol.com



Contact for Tribute Cards:
Barbara Peifer - barbsgr88@aol.com




If you have a Study Group in mind, please fill this form and send/give to one of our Study Group VP's

Study group Request Form to join a new group.(pdf. format)


---
---
Updates and Photos from various Study Groups:
---

(click on the images to enlarge)
Divas2 on the town grop at Max Factor museum July, 2023.
(click on the images to enlarge)
Coming Soon! - another advanture of our study group!!!
(click on the images to enlarge)
Coming Soon! - another advanture of our study group!!!

(click on the images to enlarge)
Men On The Town visiting the Joel McCrena Rance on June, 2023.

(click on the images to enlarge)
Fun Seekers - on the town study group
visiting the Realization Center on June 4, 2023.
Gentlemen in orange was the monk that was showing us around.

(click on the images to enlarge)
Thank you
GROUP LEADERS for everything you do!
ICE-CREAM SOCIAL - October 2022

(click on the images to enlarge)
MenOnTheTown
at "Guide Dogs of America" in Sylmar today followed by lunch at the Bear Pit. Everyone was impressed by this facility and the fantastic work that they do.


(click on the images to enlarge)
LETS GO - Dodger Stadium - 2023


(click on the images to enlarge)
Let's Go On The Town study group
enjoying a perfect August day in Malibu at the Getty Villa.Lunch after our tour at Ollo - Malibu. Sunshine, blue skies - a fabulous group of women and our Co-President - Penny Greenblatt. Fun fun fun!!


(click on the images to enlarge)
DIVAS2 - 1st outing
San Antonio Winery - 2023


(click on the images to enlarge)
On the Town Couples - "Gadabauts"
Camarillo Air Museum


(click on the images to enlarge)
On the Town - Couples - "Gadabauts"
Operation Air Force! CFA - February 2023



(click on the images to enlarge)
Hot Mamma Mahjers Study Group2022

Game Study Group 2022


(click on the images to enlarge)
On the Town - "Let's Go"
Operation Gratitude - Stuffing Bears for children!
A wonderful charity that provides bears for children of military personnel who are deployed, and they also provide lots of essential things for the military and homeless.
Leader, Rickey Harris rickey.f.harris@sbcglobal.net

(click on the images to enlarge)
On the Town - "Let's Go" - Operation Gratitude - Stuffing Bears for children!
On the Town - "Let's Go" study group is volunteering their time to stuffed bears for the kids.
Group leader,
Rickey Harris rickey.f.harris@sbcglobal.net

(click on the images to enlarge)
Funseekers
A Study Group to Pique Your Interest!
This is the Funseekers Study Group. In October 2022, we went to the Academy Museum of Motion Pictures. We had a terrific time. So much to see. We ended our day by going to Canters Deli for lunch.
Our fearless leader is
Howard Brown hmicbrn923@gmail.com

(click on the images to enlarge)
Men On-the-Town - having a lot of fun! - July 2022
Good time had at the LA Auto Show by the Brandeis Conejo Valley Men On-the-Town
with our Fearless leader,
Kenneth E. Wolf 1oldlobo@gmail.com

(click on the images to enlarge)
Let's Go
Our On the Town Group
Our On the Town Group - Let's Go - enjoying a beautiful day visiting Virginia Robinson's Garden in Beverly Hills on Nov. 1st.
Brunch at " Not Just Waffles" in Encino.
For more information please contact our leader,
Rickey Harris rickey.f.harris@sbcglobal.net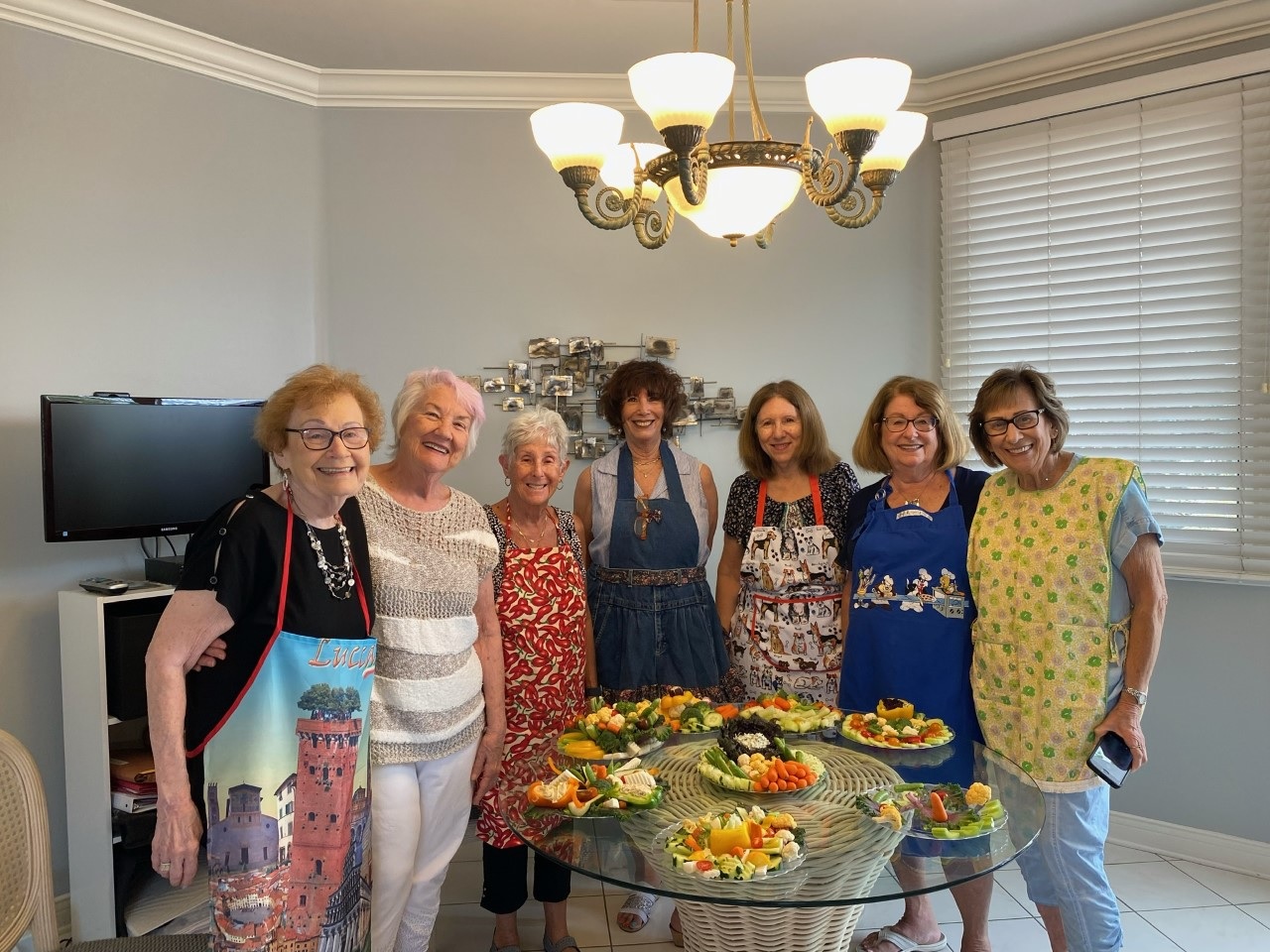 (click on the images to enlarge)
Just4Fun - having a lot of fun! - July 2022
Just 4 Fun had a great day making veggie platters and then having a great lunch.
Thanks to Jo Greene for setting us up. We are looking for new members so come join us every 4th Wednesday.
Please contact our leader,
Nancy Tanowitz nancytanowitz@yahoo.com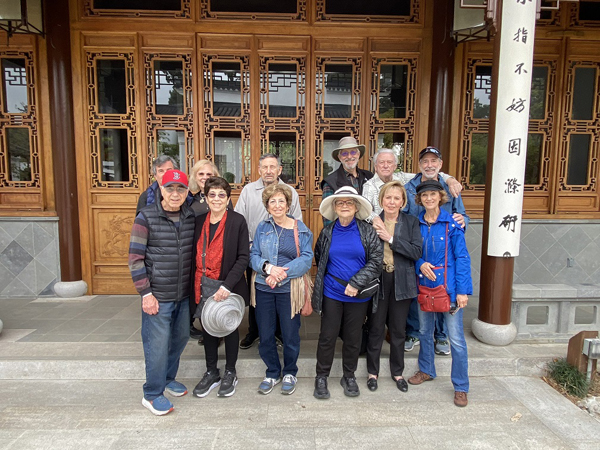 (click on the images to enlarge)
Funseekers
A Study Group to Pique Your Interest!
Fun Seekers at the Huntington museum and gardens. April 04, 2022 - our first outing in three years. We had a great time.
For more information please contact our leader,
Howard Brown hmicbrn923@gmail.com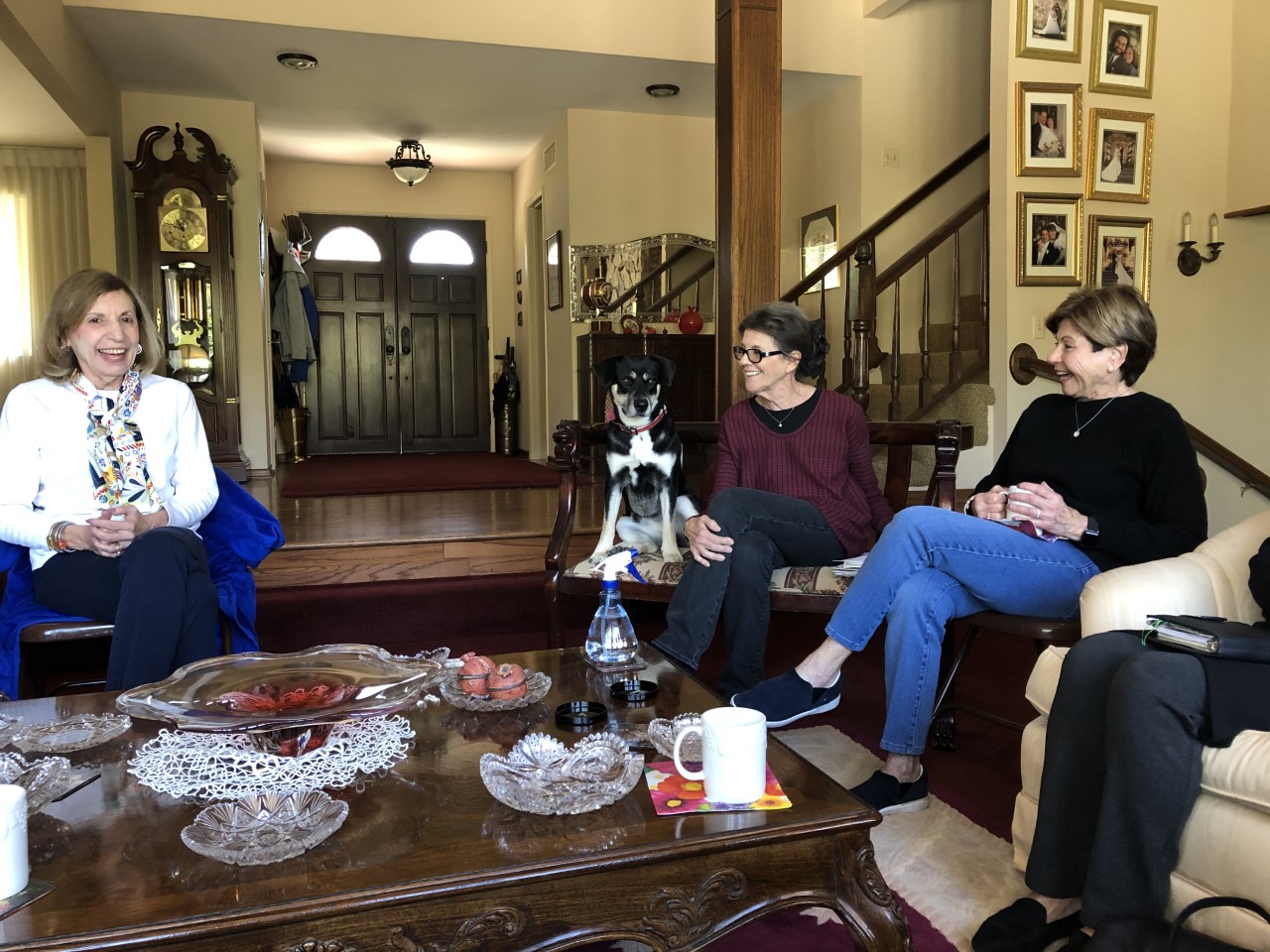 (click on the images to enlarge)
Bailey helps Elaine Blonder lead the discussion at Breaking News, a current events discussion group.
January 2020

(click on the images to enlarge)
Daytime Divas at Van Nuys Airport
September 2019

(click on the images to enlarge)
Bits N-Pieces Potpourri Group
October 2019

(click on the images to enlarge)
Daytime Divas attending the Cedars-Sinai
Simulation Lab,
to see state of the art equipment
and presentation of latest
mediacal traning facility.

November 2019

(click on the images to enlarge)
Bits N-Pieces Potpourri Group
November 2019

(click on the images to enlarge)
Daytime Trotters and fireman
July 2019

(click on the images to enlarge)
Women Behind The Presidents
August 2019

(click on the images to enlarge)
Daytime Divas at Braille Institute
June 2019

(click on the images to enlarge)

Shabatnkcs celebrating birthdays and anniversary before attending Sabbath Service - May 2019

(click on the images to enlarge)

Men Unlimited - Men's on the town group - touring the Boeing Santa Susana Laboratory site on - May 2019






(click on the images to enlarge)
Gadabaut On The Town couples group visiting Fire station and learning how the station operates, how Firefighters live, eat and what are their range of duties - March 2019