Welcome to Brandeis Conejo Valley
Four times award-winning chapter!
BNC -
A BRIDGE FROM THE PAST TO THE FUTURE
---
"It is the policy of Brandeis University, the Brandeis National Committee, and the Conejo Valley Chapter that membership lists and event registration lists may not be shared with other organizations. They are the property of the Conejo Valley Chapter. In order to insure the privacy of each individual, our members may not use our lists for any purpose other than that for which they were created."


Brandeis Conejo Valley Contact List:
(To send e-mail to one of the ELECTED BOARD 2017-18 members, or to any contact on the list, please click on their e-mail address, or copy their email to your email program)
CO-Presidents:
Elaine Bercy
cyberbercy@aol.com
Judy Perlman
judithfp@gmail.com
Vice President, Membership:
Elaine Leff
elainel@socal.rr.com
Vice President, Major Events:
Nancy Minkow
nvmlcsw@aol.com
Sue Geiger
SGeiger75@gmail.com
Vice Presidents, Study Groups:
Ellie Puls
norm0020@yahoo.com
Honey Bencomo
danhoney@aol.com
Beverly Sklar
beverlysklar2@gmail.com
Treasurer:
Susan Barnett
ansbar2@gmail.com
Corresponding Secretary:
Sharon Billone
sharonbillone@yahoo.com
MEMBERSHIP REGISTRAR:
Madeline Ellis
madelineellis@socal.rr.com
Director - CO-DIRECTORS SPECIAL EVENTS:
Jessica Pearlman
jbrra@aol.com
Frona DeCovnick
kidzathart@aol.com
SOCIAL JUSTICE/Community Service - SUNSHINE:
Gertie Sanders
gertiesanders@gmail.com
Co-Vice Presidents, Tributes:
Renee Spero
rsnh16@gmail.com
CIO Officer and Parliamentarian:
Sharon Cohen
forshar1@yahoo.com
VP of Leadership Development:
Carol Smith
carolovestan@gmail.com
Newsletter Editor-In-Chief/Web Master:
Alvira Klein
etty10@hotmail.com
Main Brandeis Conejo email:
brandeisconejo@yahoo.com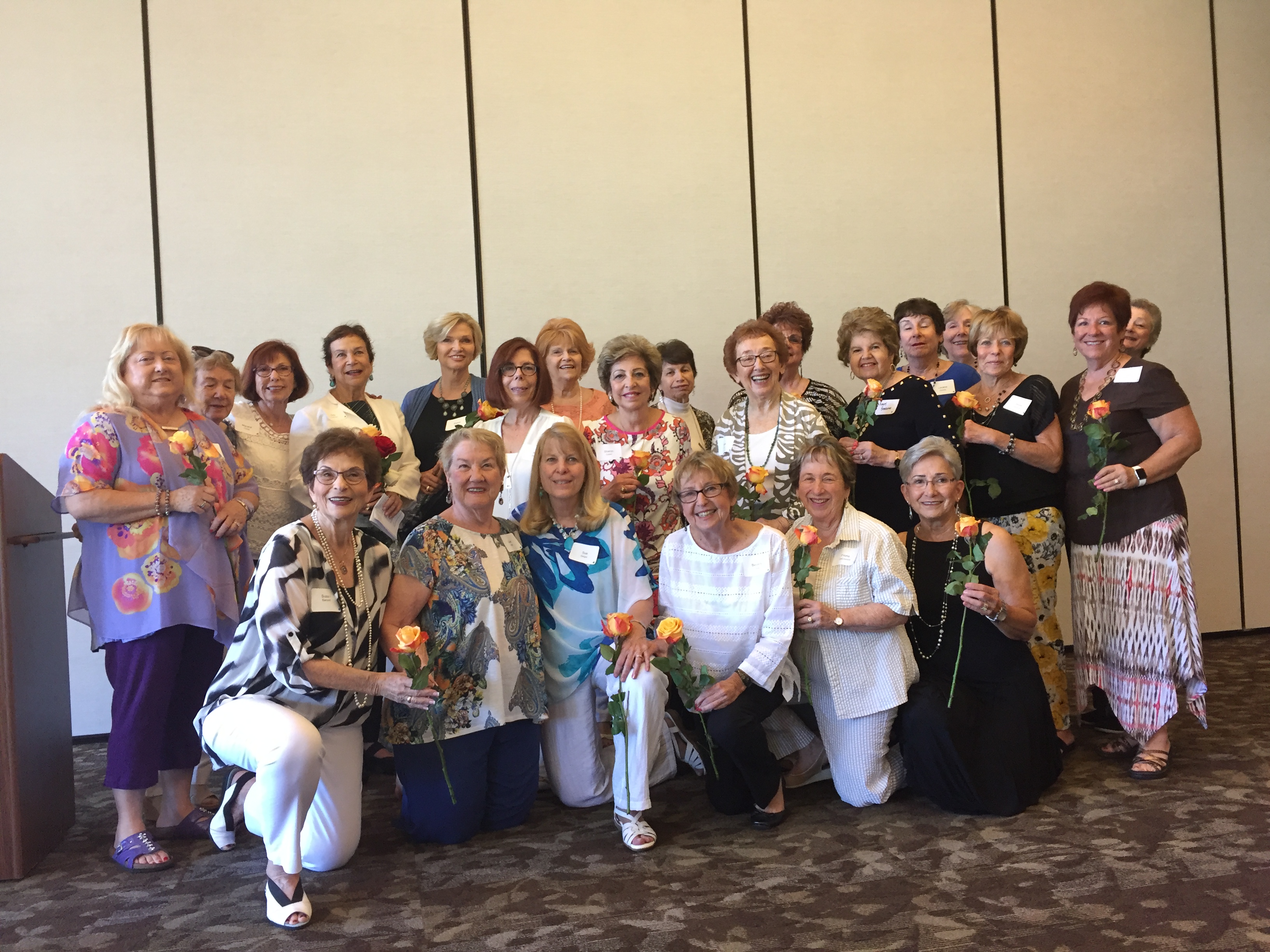 ---
WELCOME OUR NEW 2017-2018 BOARD
(click here for more pictures)

On the left - our outgoing board and on the right our newly elected board.
On the left: our new co-presidents: Elaine Bercy and Judy Perlman.
On the right our outgoing co-presidents Sue and Nancy with crystal engraved clock -
gift from their board in appreciation for their service.
---
ANY Questions - email: Web Master