Additional Brandeis Sites:

www.brandeis.edu
www.brandeis.edu/now/
www.brandeis.edu/bnc/





Brandeis University News and Updates:
BRANDEIS CHAPTER INFORMATION OFFICER (CIO) REPORT
By Roseanne Lieban - Chapter Information Officer
May, 2021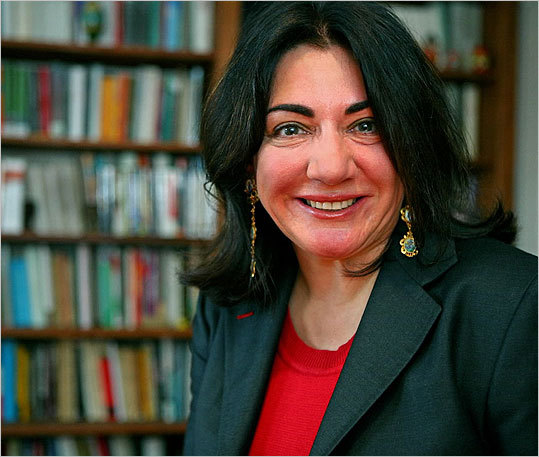 Every Armenian American, it seems, represents a profound legacy. For Alice Kelikian, a historian at Brandeis University, it's in the story of the three aunts she never knew and the memory of her father, Dr. Hampar Kelikian, a survivor of the Armenian genocide of 1915-1923.

Dr. Kelikian went on to become a renowned Chicago surgeon, who saved a young wounded World War II veteran's right arm - and encouraged him to go into politics. That man is former GOP Senate leader and 1996 presidential nominee Bob Dole.

For Dr. Kelikian's daughter Alice, April 24 - Armenian Genocide Remembrance Day - is as meaningful as ever. "Bob Dole broke down at my father's wake" in 1983, I am moved by the humanity in all of this."



April, 2021

THIS IS MY BRAVE

THIS IS MY BRAVE Join us virtually on Thursday April 15th at 6pm ET | 5pm CT | 3pm PT for the Brandeis University premiere of This Is My Brave College Edition.

This is a program at Brandeis which provides students an opportunity to share their challenges, by creative storytelling from six Boston-area college students - Eden, LaToya, Mitchell, Ruby, Nicole, and David - who live with mental health challenges.

Let our storytellers (click HERE!) inspire you to find hope in your own challenges or give hope to someone you love who may be facing similar circumstances.

February, 2021

Keeping it local

Anyone who knows Ian Roy '05 won't be surprised that he has his own stack of 3D printers at home. A tinkerer by nature, Roy is the director of Brandeis University's MakerLab and an adjunct professor at the International Business School, where he teaches classes on digital fabrication, robotics and rapid prototyping. It's also no surprise that Roy took an active role when the pandemic hit, positioning Brandeis as a leader in an inter-college working group that began sharing the best and latest information on how to manufacture personal protective equipment (PPE). "We were all building literacy and helping each other with designs," said Roy. "Brandeis is good at 3D printing, so we were able to help other schools with their prints."

Roy stayed busy by testing PPE designs with his home 3D printers. The easiest to manufacture turned out to be plastic face shields. After some trial and error, Roy figured out that he could print stacks of the headbands at once. The most time-consuming part of the process was assembling the shields by attaching a thin plastic sheet to the headband, and then sanitizing each shield.

January, 2021

BRANDEIS PROGRAMS IN INTERNATIONAL JUSTICE AND SOCIETY

The world of international justice is complex and changing. Over the past several decades, a number of new international justice institutions have been established in response to specific events and to a generalized view that some kinds of judicial proceedings can best serve the interests of the global community.

Central to the formulation of the Brandeis Programs in International Justice and Society is the inclusion of intellectual approaches provided by literature, history, anthropology, philosophy and many other disciplines. The staff of the International Center for Ethics, Justice, and Public Life strives to enrich the experience of practitioners and "constituents" of international justice -- judges, attorneys, victims, witnesses, scholars, advocates and others--by developing programs that take into account of the full complexity of justice institutions and the work they perform. Students are also encouraged to study institutions and mechanisms of international justice in their full contexts.

The Language, Justice and Culture Hub is an activity of the Programs in International Justice and Society of Brandeis University's International Center for Ethics, Justice and Public Life. It was created and is maintained by Programs Director Leigh Swigart, with the assistance of Ella Russell (Brandeis class of '22). Funding from the Rice Family Foundation helps to support the Hub.


---
Cathedral of Notre Dame in Paris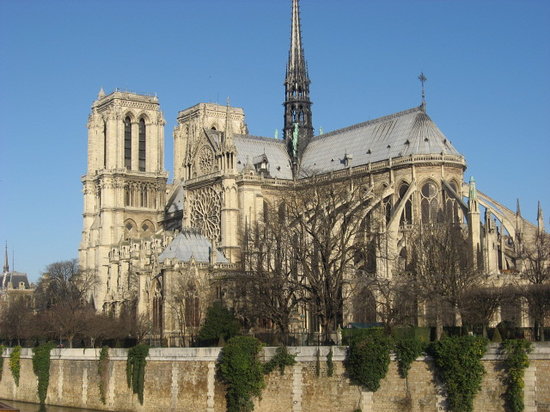 Fine arts professor at Brandeis, Charles McClendon, comments on the horrific fire at the Cathedral of Notre Dame in Paris and the path toward renovating the iconic building.

What's the cultural significance that is most often overlooked about Notre Dame in Paris?

It's the first of the gigantic cathedrals - it starts the age of gigantism because it was the first cathedral to break the 100-feet mark in height. Each city wanted its cathedral to be higher than the others, like trying to build skyscrapers higher and higher.

But it's not just a church, or Paris, or France. It's the most famous gothic church. Religious or not, it has been the subject of contemplation for centuries.

Notre Dame was created at the time of the birth and expansion of the first international university. The University of Paris is an outgrowth of the cathedral school and it became a center for all of Europe around 1200. Some of the best minds taught there - yes, in service to the church - but also to start the first curriculum of the liberal arts.

Paris was seen as a new Athens and Notre Dame was a manifestation of this. The cathedral is amazing, both in ambition and in size.


---
When Sharon Cohen and Honey Bencomo visiting Brandeis University. they hiked up the hill so they could be near justice Brandeis's statue. Today on Facebook somebody wrote what was at the bottom of the statue on a plaque which they never noticed. We are sharing this with you.

Tikkun Olam
A pansecterian University that one day will embrace the concept of a school of law and social justice.
---
Visit the University Website
www.brandeis.edu

Renew Your Membership Online
It's quick and easy!
Click here, complete the form, pay and you're done..

If you would like to see what the beautiful Brandeis University campus looks like,
please CLICK HERE !
Here's a link to the campus drone tour.
https://youtu.be/aiiCRA3G5e0

---
The Brandeis Beginnings Tidbits:

Brandeis University is the youngest private research university in the United States and is the only nonsectarian college or university in the nation founded by the American Jewish Community



Albert Einstein was one of the original planners of Brandeis University



Eleanor Roosevelt was a member of the faculty, teaching a course on international affairs that drew on her experience as U.S. ambassador to the United Nations. She was also the first Commencement speaker, for the class of 1952



The University's first professor of music and director of the School of Creative Arts was composer Leonard Bernstein. While at Brandeis, Bernstein debuted Trouble in Tahiti on June 12, 1952 as part of the first Creative Arts Festival



Notable alumni: Tony Goldwyn '82 actor, director, producer, starred in such cinematic hits as: Ghost, Tarzan, The Pelican Brief and Kiss the Girls. His directorial works include:: Someone like you and A Walk on the Moon.



Brandeis University counts among its alumni five Pulitzer Prize winners, a Nobel laureate and several Emmy Award-winning actors, broadcasters and producers.
---
Located in Waltham, Massachusetts, Brandeis University is ranked in the top tier of universities in the country. Founded in 1948 and named for the late Justice Louis Dembitz Brandeis of the U.S. Supreme Court, it is the only nonsectarian, Jewish-founded university in the country, known for its academic excellence and ideals of social justice. At the same time as Brandeis' founding, eight women from Boston, all leaders in the community, were asked to help in supporting this new university. They were given the task of building on the collection of 2,000 books in the Library, which was housed in a converted horse stable. The dedication and perseverance of these women, who now called themselves the National Women's Committee continues today, sixty years later, as the Brandeis National Committee. With over 70 chapters nationwide and over 39,000 members, BNC is one of the largest and most successful "friends of a library" organizations in the world. Over the years, we have placed over one million books in the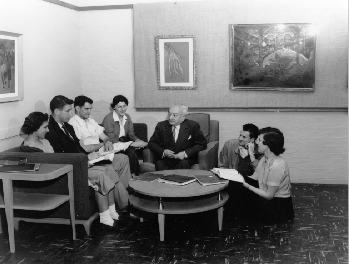 Brandeis libraries, and raised over $100 million for Brandeis University and its libraries, scholarship and research. Brandeis University has become one of the youngest private research universities, with ground-breaking exploration in neurodegenerative and age-related diseases.

(IMAGE: Students with Dr. Ludwig Lewisohn, J.M. Kaplan Professor Comparative Literature March 25, 1953)

Now after almost 70 years, Brandeis University has become well established, renowned for its academic excellence and celebrated for its ideals of social justice. But when Brandeis first opened its library doors in the fall of 1948, it was not the best of times for this unique university...yet. Brandeis's book collection was meager, only 2,000 volumes, and was housed in, of all places, a converted horse stable! This was Brandeis's infancy, though, and the nation's only Jewish-sponsored, non-sectarian University h ad an incredible challenge ahead.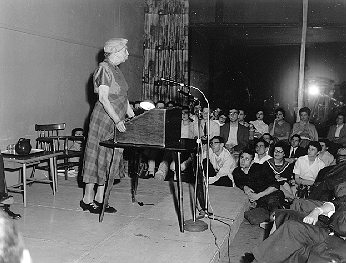 It would be an extraordinary task to create a library that could barely compete, let alone compete well, with the "old ivies" in New England. Brandeis was determined to be first rate. Remarkably, eight women would answer this challenge. Their loyalty to this unproven university came from a different breed of faith: both to the Jewish community at large, and to education itself. They called themselves the National Women's Committee, and what they would work to achieve was no less than amazing.

(IMAGE: Eleanor Roosevelt—Lecture for General Education Class April 17, 1958)

Sixty years later, the Brandeis University National Women's Committee is a thriving, vital part of both Brandeis and its library fundraising efforts. We are now one of the largest, most successful "friends of a library" organizations in the world. With members in chapters across the country, the National Women's Committee has raised millions for Brandeis University research program and its libraries.


---
FUN FACTS

~~ Brandeis was founded in 1948 as a non-sectarian, coeducational institution sponsored by the Jewish community.
~~ Brandeis was established on the site of the former Middlesex University.
~~ Brandeis University was named for Justice Louis D. Brandeis, who was the first Jewish Justice of the United States Supreme Court.
~~ Brandeis First President - Abram L. Sachar -1948-1968
~~ Famous Professors who taught at Brandeis - Eleanor Roosevelt, Leonard Bernstein, Anita Hill
~~ Brandeis Motto - In Hebrew - Emet - In English it means - Truth even unto its innermost parts
~~ Brandeis Colors - Blue and White
~~ Nickname - Judges
~~ Mascot - Ollie the Owl - named for Justice Oliver Wendell Holmes, Jr.


Justice Louis D. Brandeis -
"Our government teaches the whole people by its example. If the government becomes the lawbreaker, it breeds contempt for law; it invites every man to become a law unto himself; it invites anarchy."


---