Additional Brandeis Sites:

www.brandeis.edu
www.brandeis.edu/now/
www.brandeis.edu/bnc/





Brandeis University News and Updates:
BRANDEIS CHAPTER INFORMATION OFFICER (CIO) REPORT
By Roseanne Lieban - Chapter Information Officer

June 2019

COMEDIAN NOAM SHUSTER-ELASSI, a graduate of Brandeis University is a rising star. She has spoken at conferences around the world, exhorting her generation of Israelis to chart a more progressive course in diplomacy. In 2017 she started telling jokes telling why she goes to leftist protests in Israel "I care about political causes, but I'm 31 and single, so I go to the demonstrations mainly to look for dates. I really want the audience to leave my show with something that is beyond me. I see myself as a vehicle for saying there is no future for Israel and for Jews without Palestinians being in the picture and being equal to us.

May 2019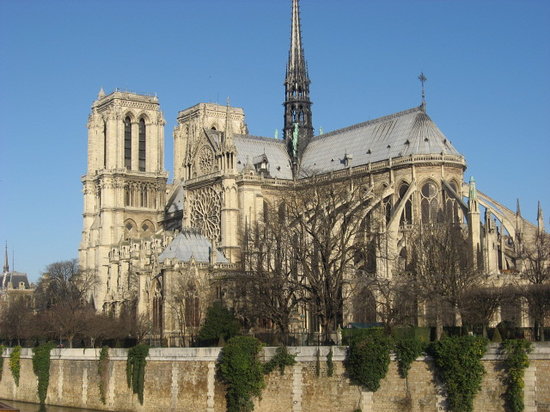 Fine arts professor at Brandeis, Charles McClendon, comments on the horrific fire at the Cathedral of Notre Dame in Paris and the path toward renovating the iconic building.

What's the cultural significance that is most often overlooked about Notre Dame in Paris?

It's the first of the gigantic cathedrals - it starts the age of gigantism because it was the first cathedral to break the 100-feet mark in height. Each city wanted its cathedral to be higher than the others, like trying to build skyscrapers higher and higher.

But it's not just a church, or Paris, or France. It's the most famous gothic church. Religious or not, it has been the subject of contemplation for centuries.

Notre Dame was created at the time of the birth and expansion of the first international university. The University of Paris is an outgrowth of the cathedral school and it became a center for all of Europe around 1200. Some of the best minds taught there - yes, in service to the church - but also to start the first curriculum of the liberal arts.

Paris was seen as a new Athens and Notre Dame was a manifestation of this. The cathedral is amazing, both in ambition and in size.

April 2019


Brandeis University Press recommends a book "Not Bad For Delancey Street: The Rise of Billy Rose"

Billy Rose was born born William Samuel Rosenberg, September 6, 1899 he was married to Fanny Brice. He founded the Billy Rose Sculpture Garden at the Israel Museum in Jerusalem, Billy was an American impresario, theatrical showman and lyricist. For years both before and after World War II, Billy Rose was a major force in entertainment, with shows such as Billy Rose's Crazy Quilt (1931), Jumbo (1935), Billy Rose's Aquacade (1937), and Carmen Jones (1943). As a lyricist, he is credited with many famous songs, notably "Me and My Shadow" (1927), "More Than You Know" (1929), "Without a Song" (1929), "It Happened in Monterrey" (1930) and "It's Only a Paper Moon.










---
When Sharon Cohen and Honey Bencomo visiting Brandeis University. they hiked up the hill so they could be near justice Brandeis's statue. Today on Facebook somebody wrote what was at the bottom of the statue on a plaque which they never noticed. We are sharing this with you.

Tikkun Olam
A pansecterian University that one day will embrace the concept of a school of law and social justice.
---
Visit the University Website
www.brandeis.edu

Renew Your Membership Online
It's quick and easy!
Click here, complete the form, pay and you're done..


---
FUN FACTS

~~ Brandeis was founded in 1948 as a non-sectarian, coeducational institution sponsored by the Jewish community.
~~ Brandeis was established on the site of the former Middlesex University.
~~ Brandeis University was named for Justice Louis D. Brandeis, who was the first Jewish Justice of the United States Supreme Court.
~~ Brandeis First President - Abram L. Sachar -1948-1968
~~ Famous Professors who taught at Brandeis - Eleanor Roosevelt, Leonard Bernstein, Anita Hill
~~ Brandeis Motto - In Hebrew - Emet - In English it means - Truth even unto its innermost parts
~~ Brandeis Colors - Blue and White
~~ Nickname - Judges
~~ Mascot - Ollie the Owl - named for Justice Oliver Wendell Holmes, Jr.


Justice Louis D. Brandeis -
"Our government teaches the whole people by its example. If the government becomes the lawbreaker, it breeds contempt for law; it invites every man to become a law unto himself; it invites anarchy."


---
If you would like to see what the beautiful Brandeis University campus looks like,
please CLICK HERE !
Here's a link to the campus drone tour.
https://youtu.be/aiiCRA3G5e0

---
The Brandeis Beginnings Tidbits:

Brandeis University is the youngest private research university in the United States and is the only nonsectarian college or university in the nation founded by the American Jewish Community



Albert Einstein was one of the original planners of Brandeis University



Eleanor Roosevelt was a member of the faculty, teaching a course on international affairs that drew on her experience as U.S. ambassador to the United Nations. She was also the first Commencement speaker, for the class of 1952



The University's first professor of music and director of the School of Creative Arts was composer Leonard Bernstein. While at Brandeis, Bernstein debuted Trouble in Tahiti on June 12, 1952 as part of the first Creative Arts Festival



Notable alumni: Tony Goldwyn '82 actor, director, producer, starred in such cinematic hits as: Ghost, Tarzan, The Pelican Brief and Kiss the Girls. His directorial works include:: Someone like you and A Walk on the Moon.



Brandeis University counts among its alumni five Pulitzer Prize winners, a Nobel laureate and several Emmy Award-winning actors, broadcasters and producers.
---
Located in Waltham, Massachusetts, Brandeis University is ranked in the top tier of universities in the country. Founded in 1948 and named for the late Justice Louis Dembitz Brandeis of the U.S. Supreme Court, it is the only nonsectarian, Jewish-founded university in the country, known for its academic excellence and ideals of social justice. At the same time as Brandeis' founding, eight women from Boston, all leaders in the community, were asked to help in supporting this new university. They were given the task of building on the collection of 2,000 books in the Library, which was housed in a converted horse stable. The dedication and perseverance of these women, who now called themselves the National Women's Committee continues today, sixty years later, as the Brandeis National Committee. With over 70 chapters nationwide and over 39,000 members, BNC is one of the largest and most successful "friends of a library" organizations in the world. Over the years, we have placed over one million books in the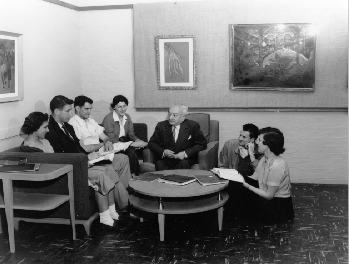 Brandeis libraries, and raised over $100 million for Brandeis University and its libraries, scholarship and research. Brandeis University has become one of the youngest private research universities, with ground-breaking exploration in neurodegenerative and age-related diseases.

Now after almost 70 years, Brandeis University has become well established, renowned for its academic excellence and celebrated for its ideals of social justice. But when Brandeis first opened its library doors in the fall of 1948, it was not the best of times for this unique university...yet. Brandeis's book collection was meager, only 2,000 volumes, and was housed in, of all places, a converted horse stable! This was Brandeis's infancy, though, and the nation's only Jewish-sponsored, non-sectarian University h ad an incredible challenge ahead.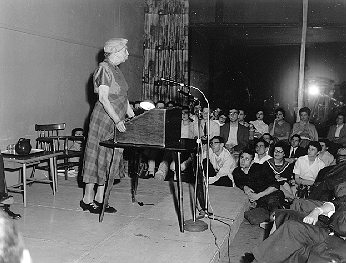 It would be an extraordinary task to create a library that could barely compete, let alone compete well, with the "old ivies" in New England. Brandeis was determined to be first rate. Remarkably, eight women would answer this challenge. Their loyalty to this unproven university came from a different breed of faith: both to the Jewish community at large, and to education itself. They called themselves the National Women's Committee, and what they would work to achieve was no less than amazing.

Sixty years later, the Brandeis University National Women's Committee is a thriving, vital part of both Brandeis and its library fundraising efforts. We are now one of the largest, most successful "friends of a library" organizations in the world. With members in chapters across the country, the National Women's Committee has raised millions for Brandeis University research program and its libraries.

Additional Brandeis Sites:
www.brandeis.edu
www.brandeis.edu/now/
www.brandeis.edu/bnc/