Additional Brandeis Sites:

www.brandeis.edu
www.brandeis.edu/now/
www.brandeis.edu/bnc/
Jewish Experience





Brandeis University News and Updates:
BRANDEIS CHAPTER INFORMATION OFFICER (CIO) 2022-2023
Helene Gollub helenegollub@gmail.com


---
September 2023

What Does It Mean That Brandeis is a Jewish-Founded (Not "Jewish") University?

Seventy-five years ago, in the Fall of 1948, 3 years after the Nazi genocide ended but there was still significant antisemitism in the United States, the founding president of Brandeis University, Abram L. Sachar gave his inaugural address.

In this address, Sachar, a leading factor in Jewish institutional life, said surprisingly little about Judaism and Jewish ideals.

Despite this, vast numbers of undergraduates enrolled at Brandeis because they either were refused admission to other schools because they were Jewish or were attracted to Brandeis because of the difference its Jewish heritage, the love of learning, and devotion to social justice is supposed to make.

Brandeis is actually conflicted about Judaism. There have never trained rabbis nor a full-fledged Department of Religion. Brandeis closed classes on Jewish holidays, however.

Colonial New England institutions of higher learning were established by refugees from religious persecution abroad at the time. Again, Sachar's inaugural address did not mention antisemitism as the rationale for the founding of Brandeis University. Jews were mostly excluded from the New England Colleges.

Brandeis has remained a university where all students and faculty members would be welcomed, regardless of race, religion, creed or color. "Quotas" were never part of the vocabulary at Brandeis.

Today, at the 75th anniversary of Brandeis, the number of Jewish undergraduates have declined and the proportion of international students increased. This shift poses a problem for this Jewish sponsored nonsectarian university. Will the Jewish legacy continue to be honored?

August 2023

Aaron Goldberg's Quest to Save a Precious Jewish Mural in Vermont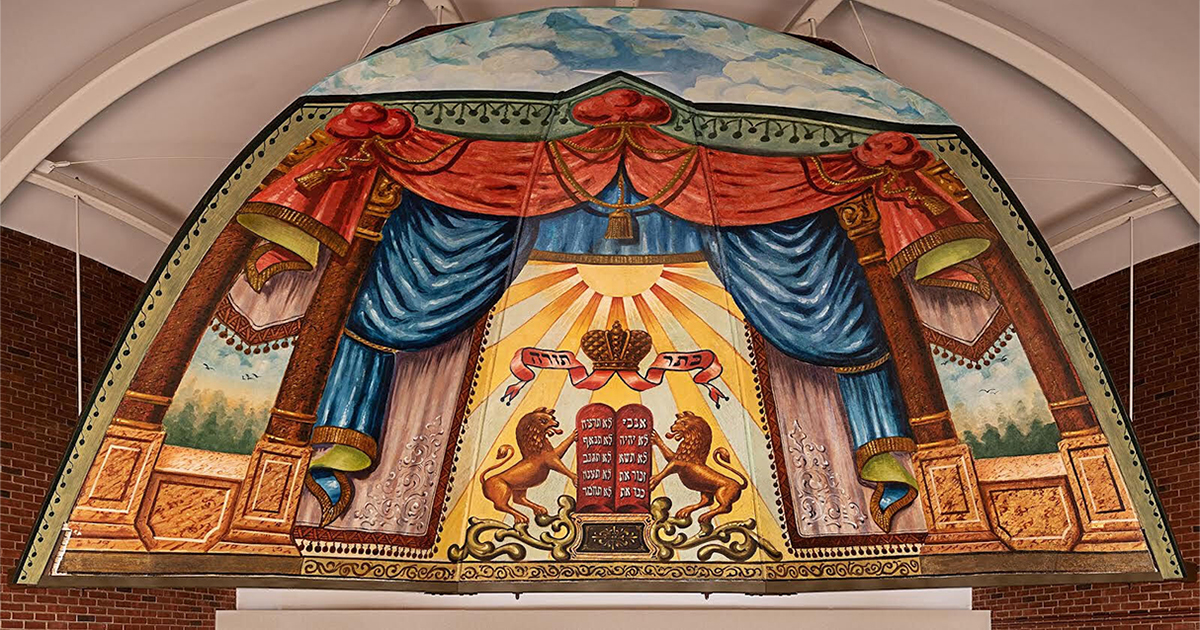 Before his first year at Brandeis in the summer of 1974, Aaron Goldberg saw an old, faded mural on a wall inside a popular carpet shop in his hometown of Burlington VT that seemed entirely out of place. It portrayed a pair of lions representing the biblical tribe of Judah, and the 10 Commandments inscribed with Hebrew words, among other Jewish themes and symbols.

Aaron felt this mural was a relic of the city's Jewish immigrant past. He learned that the mural was the work of Ben Zion Black, a Lithuanian Jewish artist who immigrated to Burlington. Black was hired in 1910 to create in 1910 the mural on a wall of Chai Adam Synagogue, the predecessor of the rug shop which opened in 1970. The shop owner was a devout Catholic but felt the mural had meaning for him and saved it.

The mural was a reflection of Eastern European synagogues which were adorned by similar colorful murals, most if not all of which were destroyed by the Nazis and Soviet Union.

After Brandeis, 50 years later, Aaron and a friend became involved with creating a documentary that included the mural of "Little Jerusalem", the name of Burlington's Jewish neighborhood.

The next year they learned that the rug shop housing the mural was going to be converted to apartments. Thus the "Friends of the Lost Mural" was founded to raise money to preserve the mural. They were able to get it sealed behind a false plaster wall to protect it until a definitive plan was developed.

Eventually money was raised to remove it, move it to a synagogue several blocks away, and restore it. It won an award from the Preservation Trust of Vermont. People from around the world, including the ambassador from Israel, have visited the mural.

July 2023

The Pew Scholars'Program provides funding for $75,000 awards to 22 junior faculty members this year whose scientific research offers promise to advance human health.

The Pew Award is one of the most prestigious research awards given in the Life Sciences.

Brandeis University Biology Professor Dr. Christine Greinberger was one of this years's recipients.

Dr. Greinberger research focuses on synaptic , cellar and neurocircuit level computations. These computations allow the brain to produce complex behaviors and give deeper understanding of spatial learning . Dr Greinberger will use the money to study the complex neural computations that drive experience-based learning.

May 2023

SUPPORT FOR MEDICAL SERVICES IN HONDURAS

21 Brandeis students belong to the Global Medical Bridges club, a part of the national organization, Global Bridges.

Global Bridges assists communities around the world which struggle finding accessible and affordable healthcare.

Honduras has many communities which rely on traveling doctors who come by every few months. For many people, this is their only chance to get medical attention.

This Spring, the Brandeis club joined the group of doctors in Honduras. The focus on this trip was on vision, diabetes, and heart diseases. The Brandeis group brought hundreds of pairs of glasses with various prescriptions and designs. One student shared a personal moment when he put pair of glasses on a child and saw how the child was able to see a whole new world.

The student club also provided information sessions on preventing and treating diabetes, high blood pressure and heart disease. The Brandeis students said this trip taught them lessons they would not have learned in the classroom.

Many students said this trip taught them that empathy can transcend language barriers and cultural differences. The club is already planning next year's trip.

~~~~~~~~~~~~~~~~~~~~~~~~~~~~~~~~~~~~~~~~~~~~~~~~~~~~~~~~~~~~~~~~~~
Brandeis University freshmen launch popular pickleball club boston

WALTHAM — Brandeis University is now part of the pickleball craze thanks to two freshmen who charted a pickleball club at the university, making them the first Boston-based collegiate pickleball team.

Parker Press and Jack Granahan are avid picklers and came up with the idea to create a pickleball club over winter break, wanting to bring the sport they love to their school.

Now, the latest sports craze is taking the university by storm.
"Pickleball is the fastest growing sport in America, but most people associate it with middle school gym classes or retirement communities, so you don't see a lot of college students super excited to play pickleball, but that's what we got," Granahan said.
What began with just the two of them is now a club with 50 members.

April 2023

Brandeis University Punches Above Its Weight in Social Science Research

Brandeis University is a leading researcher into Social Sciences according to the National Science Foundation (NSF). Brandeis was ranked 17th in the country, behind other institutions such as Harvard, Duke, Berkely, UCLA and USC. Overall, only 3% of colleges' discretionary money goes to research in Social Sciences.

Money being a concern, Brandeis had to make strategic decisions as to the areas it would focus its research on.

Last year, Brandeis had 117 active research projects with some work funded by the Medicare, Medicaid, CDC, and private foundations. Research topics included health policy; behavioral health; economic and racial equity; disability policy; child, youth and family policy and more.

Brandeis faculty are leaders in their fields, performing groundbreaking and unique studies. Students benefit from having these faculty experts teaching them in classrooms, labs, internships and fieldwork, including participating in some of the research.

March 2023

Brandeis Computational Linguistic Department

Brandeis University won a grant to help archive historic public broadcasting material.

Brandeis will receive a subgrant of $825,000 as a part of a 16 Million grant. The larger portion went to media producer GBH in support of AAPB (American Archive of Publication Broadcasting. ASPB in collaboration with the Library of Congress will digitalized historically significant public radio and TV programs from stations across its US. GBH is a leader in educational multimedia with PBS Learning media. They provide free curriculum based digital content. They make curriculum accessible to deaf and hard of hearing, blind and visually impaired audiences.

The Brandeis grant permits collaboration between Brandeis Computer Science professor James Pustejovsky's research lab for Linguistics and Computation and the GBH Archives to enhance the approach to digitalize all these materials.

The AAPB contains 100,000 online items available to the public to stream for free.

Brandeis is helping preserve the history contained in all these public radio and television programs for all to utilize in the future.

February 2023

A RISING TIDE OF DOMESTIC TERRORISM

Since the January 6 Insurrection at the US Capital, Brandeis Professor Jytte Klausen and her students have begun a study on domestic extremists, i.e. Proud Boys, Oath Keepers, Incels, etc.

They are investigating how conspiracy thinking and social networking are fueling antidemocratic behaviors, Dr. Klausen states that she has always been interested in how people become violent extremists. She and her students are exploring possible generalized behaviors and if these behaviors can be used by law enforcement to identify and monitor small groups and individuals who pose a potential threat to public safety. They want law enforcement to be proactive rather than reactive after a crime is committed.

Professor Klaussen states that domestic extremist groups are operating less openly than before Jan 6. They are still out there, though. She says that we can't ban extremist groups here as Canada has done. We don't have a legal foundation for making membership in a political group a criminal act. Even if the justice system goes after a specific group, it will just rename itself and the process would start over.

She recognizes that Social Media allows conspiracy theories to thrive and spread. The internet is the fertilizer for extremist groups.

We can only hope that the research by Professor Klaussen and her Brandeis students identifies behaviors and susceptible individuals before they become active terrorists. Perhaps then something can be done.

January 2023

Memories

How do we create and preserve memories? What are our memories? How do they form and thrive in our brains? If our memories vanish, what is left of us?

Brandeis scientists are attempting to answer these questions.

Professor Janik and assistant professors are studying the Hippocampus where memories are stored. They are questioning how memories are retained or lost, as in Alzheimer's Disease. These professors have found that in Alzheimer's patients, the Hippocampus is overactive, a condition that is detrimental to the brain and our memories. Once this is understood, therapeutic now. To remember is crucial to our personal existence and helps separate us from what would eventually be a vegetative state. For as long as our mind retains our experiences, they remain part of us, and we remain "us".

As these Brandeis scientists move closer to discovering how our brain maintains our memories, they come closer to safeguarding our humanity as well.

Brandeis researching approache to control the hyperactivity and retain our memories can be developed. How we proceed on our journey through life is stored in our memories and helps make us the person we are.


---
When Sharon Cohen and Honey Bencomo visiting Brandeis University. they hiked up the hill so they could be near justice Brandeis's statue. Today on Facebook somebody wrote what was at the bottom of the statue on a plaque which they never noticed. We are sharing this with you.

Tikkun Olam
A pansecterian University that one day will embrace the concept of a school of law and social justice.
---
Visit the University Website
www.brandeis.edu

Renew Your Membership Online
It's quick and easy!
Click here, complete the form, pay and you're done..

If you would like to see what the beautiful Brandeis University campus looks like,
please CLICK HERE !
Here's a link to the campus drone tour.
https://youtu.be/aiiCRA3G5e0

---
The Brandeis Beginnings Tidbits:

Brandeis University is the youngest private research university in the United States and is the only nonsectarian college or university in the nation founded by the American Jewish Community



Albert Einstein was one of the original planners of Brandeis University



Eleanor Roosevelt was a member of the faculty, teaching a course on international affairs that drew on her experience as U.S. ambassador to the United Nations. She was also the first Commencement speaker, for the class of 1952



The University's first professor of music and director of the School of Creative Arts was composer Leonard Bernstein. While at Brandeis, Bernstein debuted Trouble in Tahiti on June 12, 1952 as part of the first Creative Arts Festival



Notable alumni: Tony Goldwyn '82 actor, director, producer, starred in such cinematic hits as: Ghost, Tarzan, The Pelican Brief and Kiss the Girls. His directorial works include:: Someone like you and A Walk on the Moon.



Brandeis University counts among its alumni five Pulitzer Prize winners, a Nobel laureate and several Emmy Award-winning actors, broadcasters and producers.
---
Located in Waltham, Massachusetts, Brandeis University is ranked in the top tier of universities in the country. Founded in 1948 and named for the late Justice Louis Dembitz Brandeis of the U.S. Supreme Court, it is the only nonsectarian, Jewish-founded university in the country, known for its academic excellence and ideals of social justice. At the same time as Brandeis' founding, eight women from Boston, all leaders in the community, were asked to help in supporting this new university. They were given the task of building on the collection of 2,000 books in the Library, which was housed in a converted horse stable. The dedication and perseverance of these women, who now called themselves the National Women's Committee continues today, sixty years later, as the Brandeis National Committee. With over 70 chapters nationwide and over 39,000 members, BNC is one of the largest and most successful "friends of a library" organizations in the world. Over the years, we have placed over one million books in the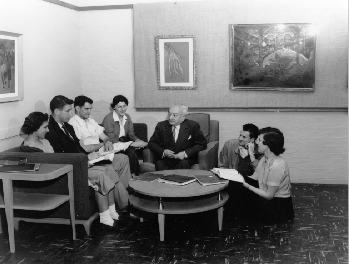 Brandeis libraries, and raised over $100 million for Brandeis University and its libraries, scholarship and research. Brandeis University has become one of the youngest private research universities, with ground-breaking exploration in neurodegenerative and age-related diseases.

(IMAGE: Students with Dr. Ludwig Lewisohn, J.M. Kaplan Professor Comparative Literature March 25, 1953)

Now after almost 70 years, Brandeis University has become well established, renowned for its academic excellence and celebrated for its ideals of social justice. But when Brandeis first opened its library doors in the fall of 1948, it was not the best of times for this unique university...yet. Brandeis's book collection was meager, only 2,000 volumes, and was housed in, of all places, a converted horse stable! This was Brandeis's infancy, though, and the nation's only Jewish-sponsored, non-sectarian University h ad an incredible challenge ahead.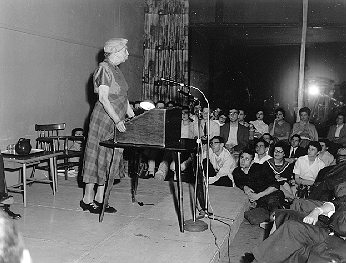 It would be an extraordinary task to create a library that could barely compete, let alone compete well, with the "old ivies" in New England. Brandeis was determined to be first rate. Remarkably, eight women would answer this challenge. Their loyalty to this unproven university came from a different breed of faith: both to the Jewish community at large, and to education itself. They called themselves the National Women's Committee, and what they would work to achieve was no less than amazing.

(IMAGE: Eleanor Roosevelt—Lecture for General Education Class April 17, 1958)

Sixty years later, the Brandeis University National Women's Committee is a thriving, vital part of both Brandeis and its library fundraising efforts. We are now one of the largest, most successful "friends of a library" organizations in the world. With members in chapters across the country, the National Women's Committee has raised millions for Brandeis University research program and its libraries.


---
FUN FACTS

~~ Brandeis was founded in 1948 as a non-sectarian, coeducational institution sponsored by the Jewish community.
~~ Brandeis was established on the site of the former Middlesex University.
~~ Brandeis University was named for Justice Louis D. Brandeis, who was the first Jewish Justice of the United States Supreme Court.
~~ Brandeis First President - Abram L. Sachar -1948-1968
~~ Famous Professors who taught at Brandeis - Eleanor Roosevelt, Leonard Bernstein, Anita Hill
~~ Brandeis Motto - In Hebrew - Emet - In English it means - Truth even unto its innermost parts
~~ Brandeis Colors - Blue and White
~~ Nickname - Judges
~~ Mascot - Ollie the Owl - named for Justice Oliver Wendell Holmes, Jr.


Justice Louis D. Brandeis -
"Our government teaches the whole people by its example. If the government becomes the lawbreaker, it breeds contempt for law; it invites every man to become a law unto himself; it invites anarchy."


---