Additional Brandeis Sites:

www.brandeis.edu
www.brandeis.edu/now/
www.brandeis.edu/bnc/





Brandeis University News and Updates:
FEBRUARY 2018:

INTERESTING FACTS FROM BRANDEIS UNIVERSITY
(CIO) REPORT By Sharon Cohen - Chapter Information Officer

BRANDEIS WINTER 2018 CHAPTER INFORMATION OFFICER (CIO) REPORT

RESEARCH MATTERS
Brandeis is where Noble prize winning biologist Michael Rosbash and Jeffrey Hall, professor emeritus of biology, cracked the genetic code of circadian rhythms found in almost all life. It is where neurobiologist and MacArthur fellow Gina Turrigiano developed her latest theories on sleep. And where scientists interdisciplinary Materials Research Science and Engineering Center (MRSEC) are devising revolutionary new materials that promise to transform everything from the way we treat disease to build computers.

STUDENT RESEARCH
Students from all over the world come to Brandeis to experience the thrill of collaboration and discovery with a world class faculty, including a Nobel laureate. Students at Brandeis are inspired to explore without boundaries.

FACULTY RESEARCH
Research at Brandeis is as varied as the interests and expertise of our faculty. Our researchers and scholars are fueled by the spirit of inquiry, sustained by collaboration and invigorated by creativity. Our interdisciplinary orientation has propelled us to the leading edge of many fields, giving our students unparalleled opportunities to conduct meaningful research in world renowned labs.

Justice D. Brandeis - "I use to oppose women's suffrage and I've come to support it because these women have convinced me that we need full gender equality for full democratic participation."

Did you have a Brandeis Moment Today?

If you spread Smart balance on your bagel this morning, you were beginning your day with Brandeis. The patented Smart balance spread, which increases good cholesterol and improves the ratio of good to bad cholesterol, was developed at Brandeis by Prof. Hayes and his research team. Members of the Brandeis family affectionately refer to it as "Brandeis Butter."

If you read the New York Times while you are enjoying your bagel, you may have another Brandeis moment. The newspapers foreign affairs columnist Thomas Friedman, is a member of the Brandeis class of 1975. He is a three-time winner of the Pulitzer Prize in journalism and the author of several best-selling books.

If you flip to the sports pages of the newspaper, you might have read a story about US Olympic fencer Tim Morehouse, who graduated from Brandeis in 2000. Tim and his teammates won a Silver Metal in the 2008 Summer Games in Beijing.

If you visited the Crumbs Bakeshop in New York, Washington DC, Chicago or Los Angeles for a midday snack, you likely tasted a sinfully delicious cupcake based on a recipe from Crumbs co-founder Mia Bauer. The 1991 Brandeis graduate left her law career to open Crumbs with her husband in 2003 -- and launched a cupcake craze.

If you watched the TV show Will and Grace you would have seen Brandeis alum Debra Messing a 1990 graduate on this hit show.

So you can see that our Brandeis alums are making a difference in the world on many different levels. Our chapter is honored to support Brandeis University in all of their endeavors.

QUOTE OF THE MONTH

The greatest dangers to liberty lurk in the insidious encroachment by men of zeal, well meaning but without understanding.

Justice Louis D. Brandeis


---
If you would like to see what the beautiful Brandeis University campus looks like,
please CLICK HERE !
Here's a link to the campus drone tour.
https://youtu.be/aiiCRA3G5e0

---
The Brandeis Beginnings Tidbits:

Brandeis University is the youngest private research university in the United States and is the only nonsectarian college or university in the nation founded by the American Jewish Community



Albert Einstein was one of the original planners of Brandeis University



Eleanor Roosevelt was a member of the faculty, teaching a course on international affairs that drew on her experience as U.S. ambassador to the United Nations. She was also the first Commencement speaker, for the class of 1952



The University's first professor of music and director of the School of Creative Arts was composer Leonard Bernstein. While at Brandeis, Bernstein debuted Trouble in Tahiti on June 12, 1952 as part of the first Creative Arts Festival



Notable alumni: Tony Goldwyn '82 actor, director, producer, starred in such cinematic hits as: Ghost, Tarzan, The Pelican Brief and Kiss the Girls. His directorial works include:: Someone like you and A Walk on the Moon.



Brandeis University counts among its alumni five Pulitzer Prize winners, a Nobel laureate and several Emmy Award-winning actors, broadcasters and producers.
---
Located in Waltham, Massachusetts, Brandeis University is ranked in the top tier of universities in the country. Founded in 1948 and named for the late Justice Louis Dembitz Brandeis of the U.S. Supreme Court, it is the only nonsectarian, Jewish-founded university in the country, known for its academic excellence and ideals of social justice. At the same time as Brandeis' founding, eight women from Boston, all leaders in the community, were asked to help in supporting this new university. They were given the task of building on the collection of 2,000 books in the Library, which was housed in a converted horse stable. The dedication and perseverance of these women, who now called themselves the National Women's Committee continues today, sixty years later, as the Brandeis National Committee. With over 70 chapters nationwide and over 39,000 members, BNC is one of the largest and most successful "friends of a library" organizations in the world. Over the years, we have placed over one million books in the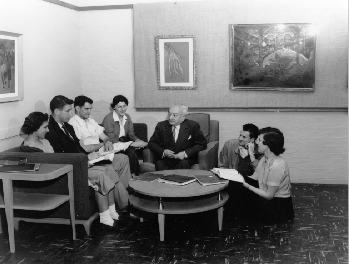 Brandeis libraries, and raised over $100 million for Brandeis University and its libraries, scholarship and research. Brandeis University has become one of the youngest private research universities, with ground-breaking exploration in neurodegenerative and age-related diseases.

Now after almost 70 years, Brandeis University has become well established, renowned for its academic excellence and celebrated for its ideals of social justice. But when Brandeis first opened its library doors in the fall of 1948, it was not the best of times for this unique university...yet. Brandeis's book collection was meager, only 2,000 volumes, and was housed in, of all places, a converted horse stable! This was Brandeis's infancy, though, and the nation's only Jewish-sponsored, non-sectarian University had an incredible challenge ahead.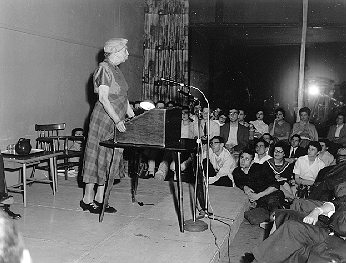 It would be an extraordinary task to create a library that could barely compete, let alone compete well, with the "old ivies" in New England. Brandeis was determined to be first rate. Remarkably, eight women would answer this challenge. Their loyalty to this unproven university came from a different breed of faith: both to the Jewish community at large, and to education itself. They called themselves the National Women's Committee, and what they would work to achieve was no less than amazing.

Sixty years later, the Brandeis University National Women's Committee is a thriving, vital part of both Brandeis and its library fundraising efforts. We are now one of the largest, most successful "friends of a library" organizations in the world. With members in chapters across the country, the National Women's Committee has raised millions for Brandeis University research program and its libraries.

Additional Brandeis Sites:
www.brandeis.edu
www.brandeis.edu/now/
www.brandeis.edu/bnc/