Brandeis University News and Updates:
Winter 2016-2017:

INTERESTING FACTS FROM BRANDEIS UNIVERSITY
(CIO) REPORT By Shelly Wasserman Chapter Information Officer

Just click on the links to read these significant articles.

REMEMBERING SHIMON PERES' LEGACY FOR ISRAEL AND THE WORLD

Brandeis professor Yehudah Mirsky discusses the legacy of a controversial, yet respected, Israeli political figure.
Click here to read more)

A COMIC CONNECTION: HUGH HEFNER AND LENNY BRUCE A two-day conference on the legacy of Lenny Bruce was opened with a keynote address from Christie Hefner '74.
Click here to read more)

WATCH: BENEDICTION OFFERED AT INAUGURATION OF BRANDEIS PRESIDENT RONALD LIEBOWITZ
Click here to read more)

RONALD D. LIEBOWITZ INAUGURATED AS BRANDEIS UNIVERSITY'S NINTH PRESIDENT The Brandeis community joined in a special ceremony on Nov. 3.
Click here to read more)

Thursday, January 5th ,2017
Board Meeting
The Board meeting starts at 10 A.M.
(9:30 A.M. if you want to chat before the meeting.)
Temple Etz Chaim
1080 E. Janss Road
Thousand Oaks, CA 91360

SAVE THESE DATES FOR FUTURE EVENTS

Tuesday, January 10th
University on Wheels
In the world today, social change may be one of the most important aspects of living together in a peaceful planet.
Theater for Social Change is the topic of Our Guest Speaker: Jennifer Cleary, Senior Lecturer in Theater Arts. Professor Cleary will enlighten us through Brazilian theatre director Augusto Boal's work.

HOLIDAYS AND OBSERVANCES

Saturday, December 24th Hannukah Begins
Sunday, December 25th Christmas

QUOTE OF THE MONTH
There is in most...some spark of idealism, which can be fanned into a flame. It takes sometimes a divining rod to find what it is; but when found...the results are often most extraordinary."
Louis Brandeis

GET YOUR BRENT'S GIFT CARDS NOW OR EVERY GIFT CARD THAT YOU PURCHASE BRENT'S GIVES BRANDEIS CONEJO VALLEY A GENEROUS CONTRIBUTION WE ALL EAT OUT OFTEN AND AT BRENT'S MORE OFTEN SO GET YOUR MEAL, DONATION, AND TAX DEDUCTION HERE

Contacts are now
Jackie - jacjer@socal.rr.com (for the San Fernando Valley and Calabasas)
and Renee - rsnh16@gmail.com (for Westlake, Thousand Oaks and Agoura)


---
The Brandeis Beginnings Tidbits:

Brandeis University is the youngest private research university in the United States and is the only nonsectarian college or university in the nation founded by the American Jewish Community



Albert Einstein was one of the original planners of Brandeis University



Eleanor Roosevelt was a member of the faculty, teaching a course on international affairs that drew on her experience as U.S. ambassador to the United Nations. She was also the first Commencement speaker, for the class of 1952



The University's first professor of music and director of the School of Creative Arts was composer Leonard Bernstein. While at Brandeis, Bernstein debuted Trouble in Tahiti on June 12, 1952 as part of the first Creative Arts Festival



Notable alumni: Tony Goldwyn '82 actor, director, producer, starred in such cinematic hits as: Ghost, Tarzan, The Pelican Brief and Kiss the Girls. His directorial works include:: Someone like you and A Walk on the Moon.



Brandeis University counts among its alumni five Pulitzer Prize winners, a Nobel laureate and several Emmy Award-winning actors, broadcasters and producers.
---
Located in Waltham, Massachusetts, Brandeis University is ranked in the top tier of universities in the country. Founded in 1948 and named for the late Justice Louis Dembitz Brandeis of the U.S. Supreme Court, it is the only nonsectarian, Jewish-founded university in the country, known for its academic excellence and ideals of social justice. At the same time as Brandeis' founding, eight women from Boston, all leaders in the community, were asked to help in supporting this new university. They were given the task of building on the collection of 2,000 books in the Library, which was housed in a converted horse stable. The dedication and perseverance of these women, who now called themselves the National Women's Committee continues today, sixty years later, as the Brandeis National Committee. With over 70 chapters nationwide and over 39,000 members, BNC is one of the largest and most successful "friends of a library" organizations in the world. Over the years, we have placed over one million books in the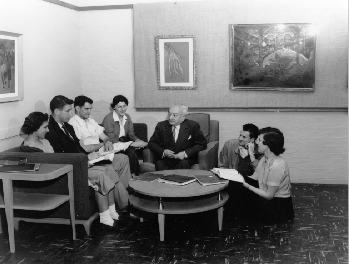 Brandeis libraries, and raised over $100 million for Brandeis University and its libraries, scholarship and research. Brandeis University has become one of the youngest private research universities, with ground-breaking exploration in neurodegenerative and age-related diseases.

Now after almost 70 years, Brandeis University has become well established, renowned for its academic excellence and celebrated for its ideals of social justice. But when Brandeis first opened its library doors in the fall of 1948, it was not the best of times for this unique university...yet. Brandeis's book collection was meager, only 2,000 volumes, and was housed in, of all places, a converted horse stable! This was Brandeis's infancy, though, and the nation's only Jewish-sponsored, non-sectarian University had an incredible challenge ahead.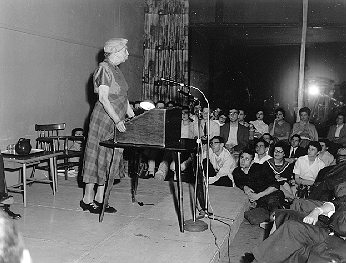 It would be an extraordinary task to create a library that could barely compete, let alone compete well, with the "old ivies" in New England. Brandeis was determined to be first rate. Remarkably, eight women would answer this challenge. Their loyalty to this unproven university came from a different breed of faith: both to the Jewish community at large, and to education itself. They called themselves the National Women's Committee, and what they would work to achieve was no less than amazing.

Sixty years later, the Brandeis University National Women's Committee is a thriving, vital part of both Brandeis and its library fundraising efforts. We are now one of the largest, most successful "friends of a library" organizations in the world. With members in chapters across the country, the National Women's Committee has raised millions for Brandeis University research program and its libraries.

Additional Brandeis Sites:
www.brandeis.edu
www.brandeis.edu/now/
www.brandeis.edu/bnc/