Welcome to Brandeis Conejo Valley
"National Chapter of the Year" 2008, 2010, 2012, 2015, 2019 and Louis Brandeis Award 2018
BNC -
A BRIDGE FROM THE PAST TO THE FUTURE
Last Updated: January 17, 2021
---
JOIN US FOR A CHAPTER WEBINAR
WEDNESDAY, JANUARY 27
1:00 PT*



Join us as our chapter hosts Jason Rosenthal, author, public speaker and lawyer.

He is also the subject of an essay written by his late wife, Amy Krouse Rosenthal, called "You May Want to Marry My Husband" that went viral and was read by millions of readers worldwide.

Amy died of ovarian cancer 10 days after her essay ran. Since his wife's passing, Rosenthal speaks publicly and writes about issues relating to processing grief and finding hope and joy amongst the pain.

Ticket Price: $18

RSVP

*Please note: The BNC website shows 4:00 ET which is 1:00 PT

The ticket price is a charitable contribution to BNC's Honoring Our History campaign.

---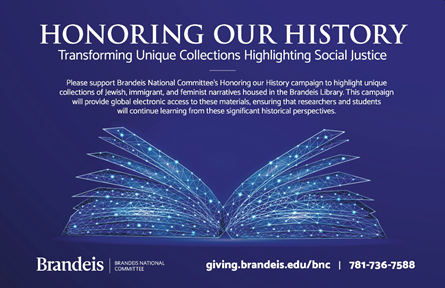 Honoring Our History
DECEMBER 2020
The University Photography Collection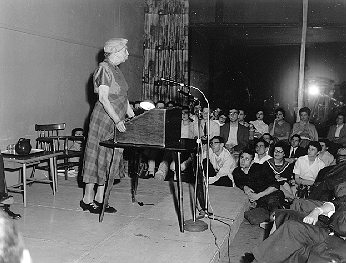 In many homes there are boxes and albums inherited by family members that are fading and deteriorating with the passage of time. So many faces and past celebrations that can no longer be identified. What are the forgotten stories that surround these photos? A family history lost forever.
It is said that "a picture is worth a thousand words." This month we would like to highlight the University Photography Collection. The Brandeis University Photography Collection comprises over 100,000 photo negatives, taken over the course of the history of the institution from the beginning to the recent past. The collection provides rich visual documentation of Brandeis University's unique history and development, showcasing the influential people, places and events associated with the school in its founding years, including the Brandeis University National Women's Committee (now the Brandeis National Committee).
The University Photography Collection is among the most actively used collections in the University Archives. Brandeis students, faculty, staff, alumni and administrators, as well as community researchers, request the use of images for scholarly publications, research papers, presentations, classroom lectures, documentary films, exhibits, publicity materials, museum publications and university celebrations.
Digital access to these images of historical importance will provide a valuable service to the research community and will preserve vulnerable early photographic images. Degradation of original acetate negatives is progressive and irreversible; digitization will serve to capture and preserve their informational value before it is permanently lost. Digital photographs from the University Archives are featured in various online exhibits, which may be found here:
Archives & Special Collections online exhibits. Please join us in helping to ensure that these remarkable photographs will not fade and deteriorate.
Please support Honoring Our History!
For more information please contact
Campaign Chairs Carol Kern,
cak8219@gmail.com
and/or Judy Levine,
judithlevine43@yahoo.com
~~~~~~~~~~~~~~~~~~~~~~~~~~~~~~~~~
~~~~~~~~~~~~~~~~~~~~~~~~~~~~~~~~~
~~~~~~~~~~~~~~~~~~~~~~~~~~~~~~~~~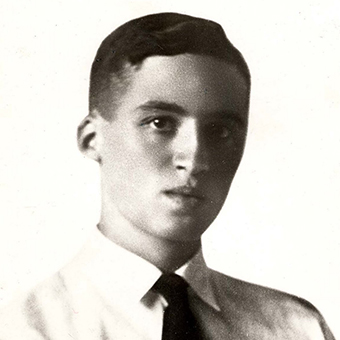 NOVEMBER 2020
This month the Honoring Our History Chairs will be highlighting the Helmut Hirsch Collection. This was selected because it exhibits the need to take a stand for what we believe to be honest and true, so that one can say"i was not silent" when witnessing injustice.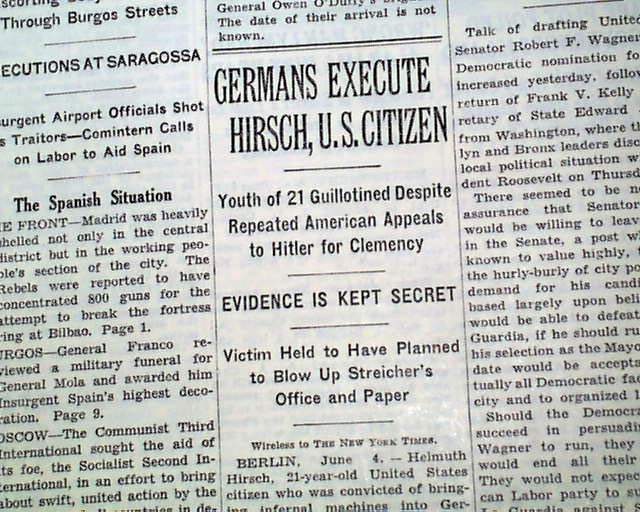 The personal papers of Helmut Hirsch, a German Jew-technically an American citizen, was a member of the anti-Nazi organization, the Black Front, which plotted to bomb the Nazi headquarters ar Nurnberg. Hirsch was to carry out the plot, which was intercepted by the Nazi's. He was arrested, tried for treason in secret, and executed by the Nazis in 1937 at the age of 21. In the few months of internment, Hirsch came to terms with his life, his decisions, and his death. He left behind a rich collection of artistic and idealist materials: correspondence with his parents and sweetheart, diaries, notebooks, artwork, poetry, short stories, and other writings, as well as photographic scrapbooks that enabled him to express his search for identity as a Jewish youth in Germany.
Donated to Brandeis by his sister, Catherine Sugarman, because she was eager to see her brother's legacy enlivened for posterity. Interest in the Hirsch case re-emerged in recent years and a documentary about him was show on German television several years ago.
The collection will be digitized at the Brandeis Library for research scholars, students, and for future generations to see and learn about not being silent overseers. The past is history...what we do with it is our future.
Please support Honoring Our History!
For more information please contact
Campaign Chairs Carol Kern,
cak8219@gmail.com
and/or Judy Levine,
judithlevine43@yahoo.com

---
A Welcome Message from your new Presidents:

Dear Members,
Jessie and I are honored to be in the forefront of such an esteemed and progressive chapter. Our able Board is the backbone of this chapter. The cooperation we anticipate from them will guide us during this tenure.We appreciate the confidence you have demonstrated in selecting us for this prestigious position of president and we will strive to live up to your expectations.
What we are experiencing now is uncharted territory for all charitable organizations. But with the superb guidance from Judy Perlman and Elaine Bercy, Brandeis Conejo is up for the challenge. We are indeed blessed to be part of an organization that offers unique opportunities to grow emotionally, socially, and intellectually through our almost ninety-five study groups, in itself a unique feature of Brandeis.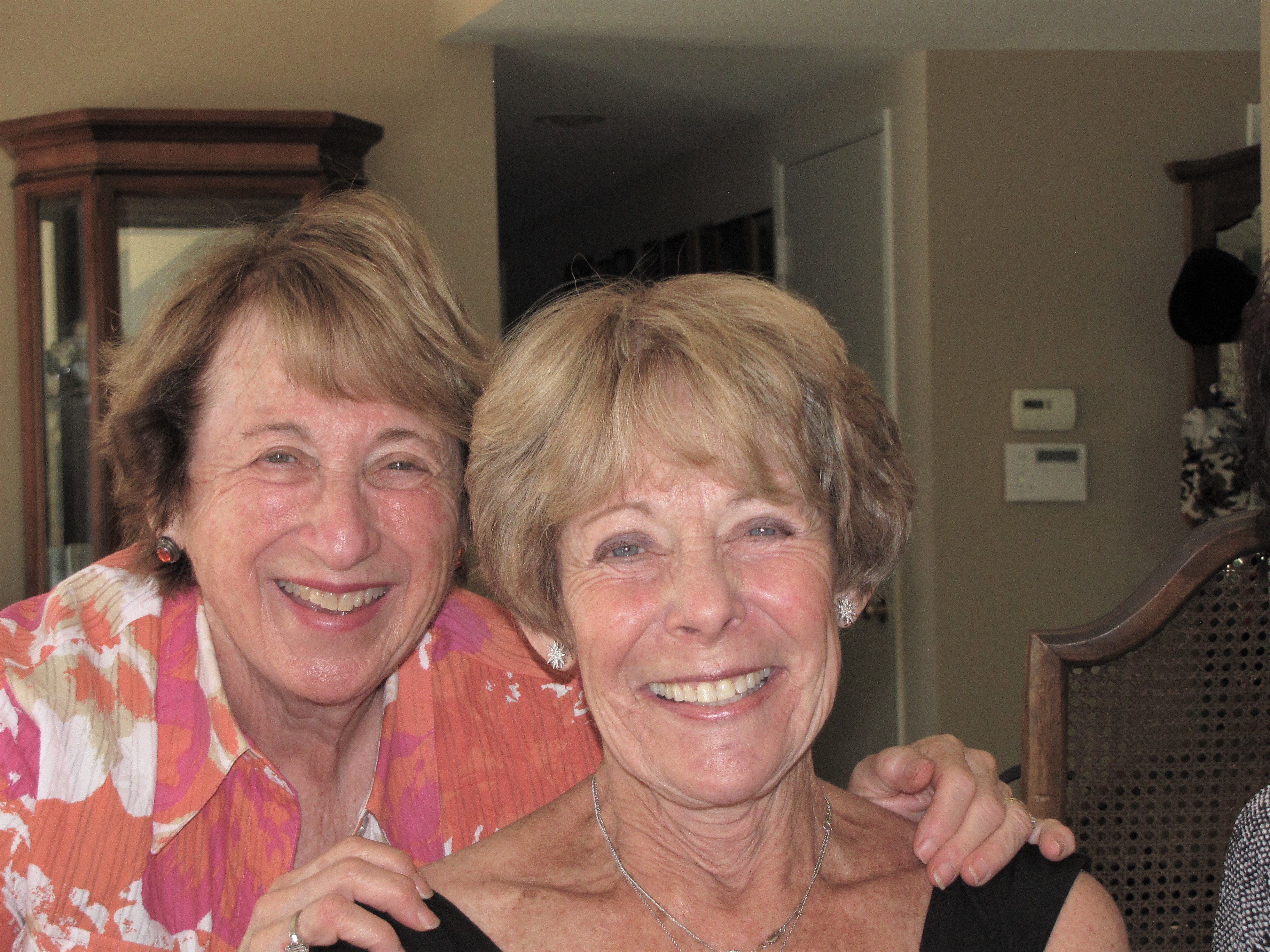 Therefore our main goals for 2020-2021 term, under these circumstances, are to retain and increase membership. Keeping members connected, providing creative alternatives, and supporting the objectives of BNC, can accomplish this. We will continue to work closely with National to incorporate webinars and speakers to add a wealth of material to many of our existing study groups and, hopefully, to foster the creation of new groups.
We are a major fund raising organization. Our contribution during this time comes mainly from our study groups. We are continuing to do our part with our future programs:the Rabbi's Panel, Books without Brunch, a panel discussion with people in the political realm, and hopefully, The League of Women Voters. Brandeis depends on YOU. Because not only are we a local organization we are part of a National committee hence, BNC. We are in this together! And together we will get through this! WE ARE COMMITTED!
Frona DeCovnick co-president (click here to send email directly to Frona) kidzathart@aol.com
Jessica Pearlman co-president (click here to send email directly to Jessie) jbrra@aol.com
---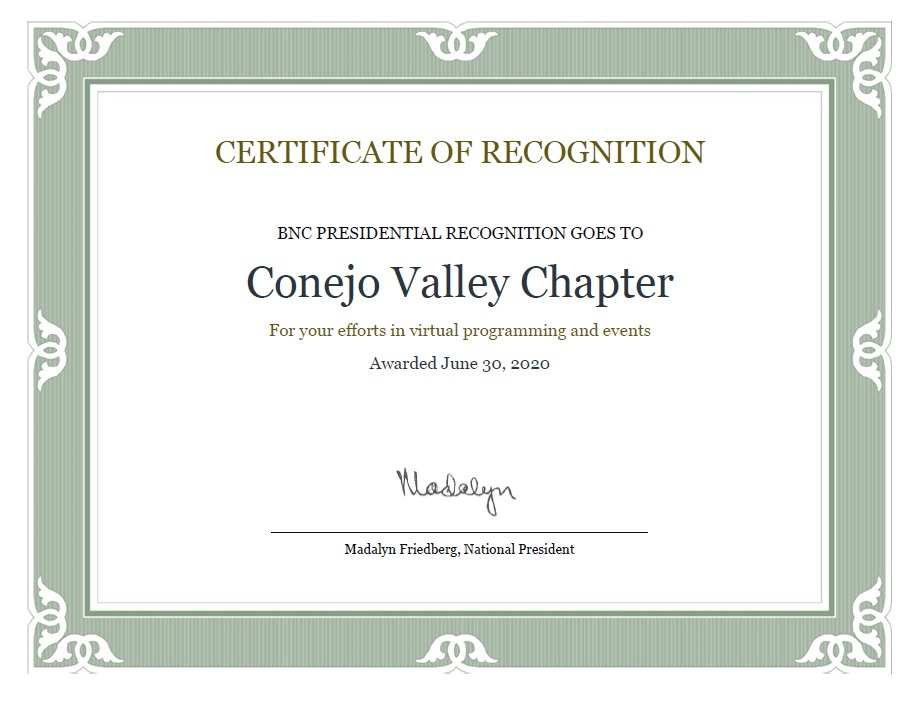 The words, "The Times they are a-Changin" (Bob Dylan-1964) certainly have taken on a whole new meaning in recent months. And the Conejo Valley Chapter is changing right along with them.
We are proud to say that we are on the front lines of technology as more than 50 of our study groups are meeting virtually using Zoom. Not only are we enjoying these virtual meetings, we're saving money on gas!
Our efforts have been recognized by the BNC with these kinds words from Madalyn Friedberg, BNC National President.
Dear Conejo Valley chapter,

It is my honor to formally recognize your chapter for outstanding efforts in virtual programming. When the pandemic started and our in-person programs came to a pause, your chapter was swift in getting onboard with virtual programs and events. I want to congratulate you on your efforts in putting together these events! We hope to see many more virtual events from you in the future. Your chapter stands as an example to other chapters. Please find attached your special presidential commendation and share with your chapter board, you earned it!

Wish warm regards,
Madalyn
Madalyn Friedberg
National President, Brandeis National Committee
---
Welcome to our website new addition -
Study Group Feature!
Every month we will feature a study group - what they are doing during pandemic.
INTRODUCING....our men's Study Group
Click on the button to READ ALL ABOUT IT:
OUTSIDE THE BOX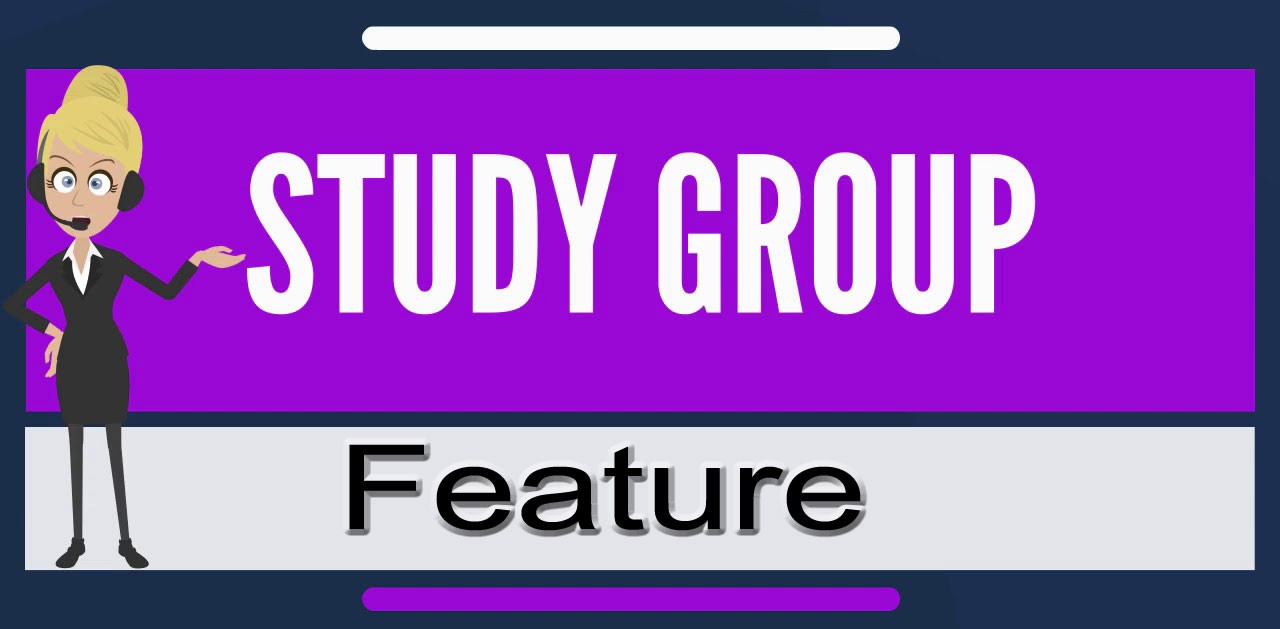 ---

Renew Your Membership Online
It's quick and easy!
Click here
, complete the form, pay and you're done..
---

BNC Conejo Valley's INSTALLATION held on June 11, 2020 04:00 PM Pacific Time
click here to see pictures from our ZOOM installation!
ANNUAL HOLIDAY PARTY 2019 with The Village Klezmer Band pictures are
HERE
!
---
FALL LUNCHEON & BOUTIQUE 2019 pictures are
HERE
!
---
Installation 2019 pictures are
HERE
!
---
Game Day 2019 pictures are
HERE
!
---
---
---
To renew your Membership:
CLICK HERE,
and you can renew easily, on line.
Contact Florence Prushan for Tributes (email directly)
florenceprushan@me.com
.
---
CLICK HERE
TO DOWNLOAD or PRINT FULL CALENDAR