Welcome to Brandeis Conejo Valley
"National Chapter of the Year" 2008, 2010, 2012, 2015
BNC -
A BRIDGE FROM THE PAST TO THE FUTURE
Last Updated: March 20th 2019
---

---
*SAVE THE DATE*
BOOKS 'N BRUNCH
TUESDAY, MAY 14, 2019
NORTH RANCH COUNTRY CLUB
WESTLAKE VILLAGE

RETURN ENGAGEMENT BACK BY POPULAR DEMAND

LISA SEE

We are thrilled to have Ms. See back with us to talk about her newest book, "Island of Sea Women".

Don't miss this exciting event.
---
Welcome to our website new addition -
SPOTLIGHT!
We want you to meet our members. Please click this button to meet this month Brandeis Conejo valley member:
Andrea Jacobs
and read her story!

---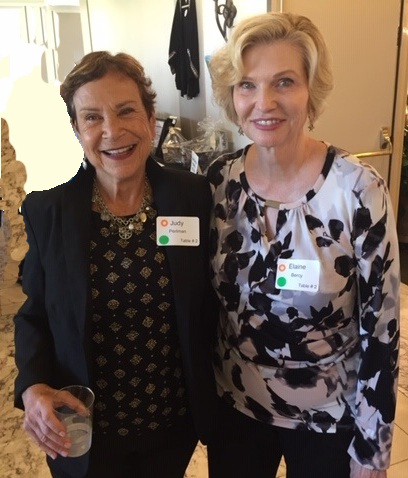 Message from Your Co Presidents:
Dear Members,
Happy February/March

Many of our Board members joined us at the Western Region Conference, which was held at the Warner Center Marriott. There were more than 50 people attending the two-day conference. (click here to see some photos from the conference)

A highlight for our chapter was our being awarded the Brandeis Award for Excellence, the "Louie". Only three chapters (of 27 nationwide) were eligible for this award; having met their goals in fundraising, and membership set by National, as well as conducting community service projects, sharing bulletins, newsletters and/or website with National, showing evidence of leadership training, and hosting University on Wheels, and utilizing Brandeis authored materials.

Did you know that many biologists build their own microscope to suit their groundbreaking research? It makes sense because the field develops so rapidly that one cannot purchase such a device "off the shelf". Well, Josh Tractenberg, a Neurobiologist from UCLA presented information to us about the photon microscope that the researchers at Brandeis University are anxiously awaiting, and for which we are collecting funds. "The things that change the world are people working - not in the clinic- but are those who are working in the laboratories." Think about that.

Another highlight for us was sharing of ideas and feeling the support of other successful groups and the learning from each other. We all expressed the experience that most people join our chapters to learn, meet new people, build a network of people to share new lives with. But we do not lose sight, and we all try to remind our members, that ultimately we are raising funds for Brandeis University and the important research in Neurodegenerative diseases. We thank you, our Conejo Valley members. for joining in to reach our National and personal goals. This is a terrific chapter and we are proud to be your presidents.

We have some interesting and exciting events coming up; our Special event on March 13. We have a scientist who will present us with "The Future" and what we can look forward to in terms of science and innovation. Someone said that for many of our grandchildren, the jobs they will hold have not been discovered yet.

May 14: Books and Brunch with Lisa See, a popular author and excellent speaker. Save the date so you are not SOLD OUT!

Also in March, look out for a community service activity that will be rewarding and fun. We can only put together two groups of 20, so check with us and get ready to respond when you hear about it.

And before you know it, it will be time to renew our membership, and continue to enjoy each other and what we bring to our community and to Brandeis University.

Thanks for making our term of office so enjoyable.

Click here to see photos from Western Conference. Your presidents,
Elaine and Judy

Judy Perlman judithfp@gmail.com
Elaine Bercy cyberbercy@aol.com,

CLICK HERE
TO DOWNLOAD or PRINT FULL CALENDAR