Welcome to Brandeis Conejo Valley
"National Chapter of the Year" 2008, 2010, 2012, 2015, 2019 and Louis Brandeis Award 2018
BNC -
A BRIDGE FROM THE PAST TO THE FUTURE
Last Updated: April 3rd, 2020
---
---
Message from Your Co Presidents:
IMPORTANT ADVISORY
---
Dear BNC members and friends,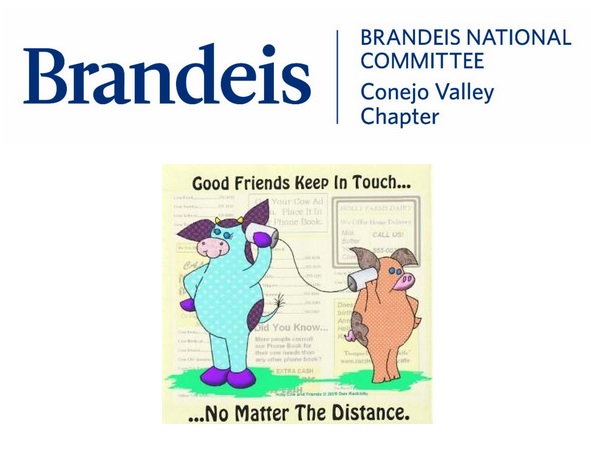 We hope this letter finds you well, both physically and mentally, in this difficult time. I received some very warm and grateful responses to our last Blast. By the way, thanks to Susan Barnett for putting it together on Constant Contact and for the clip art.
After talking with many of my Brandeis friends, I see that there are varying levels of social distancing going on. I for one go out to walk Riley thee times a day, I sit in the backyard and enjoy the green hills, I order groceries to be delivered and a neighbor will bring me a few things too. I hear that some others go to Costco when it is not busy, some go to the market, and some stay at home, period. Whatever you do, be careful, wash your hands, and don't touch your face.
So, have you Zoomed, yet? I'm getting out of the doldrums and will give it a go for a meeting with my Brandeis short story group. I think I sent out invitations tonight but who knows if it went through. Stay tuned. Amazing how one can expand our realm even under these confining circumstances.
Some follow up from the last Blast: Responding to a request, Rosanne Lieban and her quilters said: 'Well, we are all busy using up extra fabric and sewing masks for health care providers, etc. We are a mighty bunch of gals and are responding to the call-out.'
Are you interested in starting your genealogy? Dalya Dektor and Sue Geiger will help you. Requirements: have a computer, be willing to open an Ancestry account (can be for the free trial only), be willing to put some work in (with their guidance.) But now is the time! Send Name/Phone# to (click on the link to send directly)
dilly@roadrunner.com
Want to hear live - or as recently as possible - recorded classical concerts from all over the world ? Enter this in your browser (click on the link)
https://www.worldconcerthall.com/
Want to convene your group for a virtual chat or to have a discussion?. Look up Zoom.us Alvira Klain, our member who runs our website, is wiling to help you with Zoom (click on the link to send directly):
etty10@hotmail.com
Want to play mah-jong on line? Susan Uhler sent me this link (click on the link):
mahjongtime.com
(one g) has online mah-jong (many kinds). You can play the computer or real people. There is a way to play with people you know. There is a fee. The other site people like (click on the link)
realmahjongg.com
also has computer and real people play.
You can play mah-jong for two, called Siamese mah-jong, You can find out how to play on You Tube, but Judith Stalk can help you. She offered her phone number: 310-350-8400.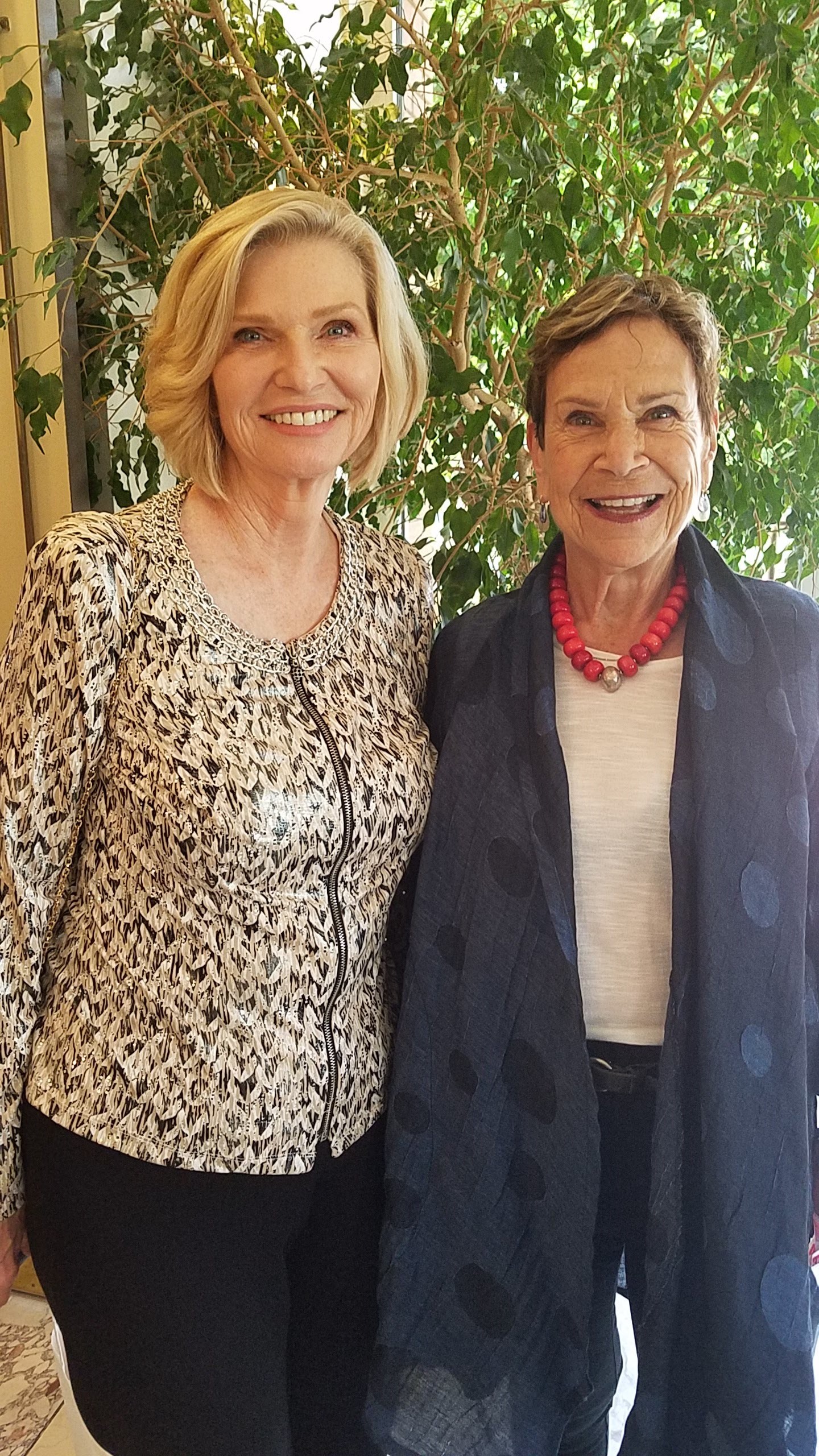 A member (perhaps several of you) and a Board member sent an email to the members of her groups to see how they are doing and just to connect and find out how they are occupying their time.
One member responding to the blast shared a story that she was searching for chicken thighs while ordering groceries on line. What came up was a can of dog food. Could have been worse, I guess.
There is always Scrabble and Rummy Cube.
Exercise in your living room? (click on the link)
https://www.youtube.com/watch?v=7aHK2sgjBCM and https://blog.myfitnesspal.com/5-free-low-impact-cardio-videos-to-try-at-home/
Should get you started.
An idea that I came across was to change the ambiance in your home by enjoying the evening by candlelight or ...light even one nice candle. I might just do that. And don't forget, it is Springtime! Take a moment to listen to the birds talk and sing. Their view of this world is different than ours.
Stay well,
Judy and Elaine
Your Co-Presidents
---
SAVE THE DATE!

BOOKS 'N BRUNCH 2020

FRIDAY, MAY 20th

NORTH RANCH COUNTRY CLUB

10:00 a.m.

MORE INFORMATION TO FOLLOW
---
ANNUAL HOLIDAY PARTY 2019 with The Village Klezmer Band pictures are
HERE
!
---
FALL LUNCHEON & BOUTIQUE 2019 pictures are
HERE
!
---
Installation 2019 pictures are
HERE
!
---
Game Day 2019 pictures are
HERE
!
---
---
Welcome to our website new addition -
SPOTLIGHT!
We want you to meet our members. Please click this button to meet this month Brandeis Conejo valley member:
Alvira Klain
and read her story!

---


January 10th ,2020, during Brandeis University on Wheels
Brandeis Conejo Valley

awarded "Chapter of the Year 2019"

presented by Daniel Breen,

Sr. Lecturer in Legal Studies at Brandeis University,

after his fascinating presentation

Civil Liberties and the Fifth Amendment
and very special programm including delicious brunch!





Money raised by this fundraising event is considered a donation to benefit Brandeis University's Sustaining the Mind fund in support of medical research to find cures for neurological diseases such as Alzheimer's, Parkinson's and ALS.

---
To renew your Membership: CLICK HERE, and you can renew easily, on line.

Contact Florence Prushan for Tributes (email directly) florenceprushan@me.com.
---
Judy Perlman judithfp@gmail.com
Elaine Bercy elainebercy@gmail.com,

CLICK HERE TO DOWNLOAD or PRINT FULL CALENDAR