---
Brandeis Conejo Valley
Calendar of events:


01/21/2019
01/22/2019
02/07/2019
02/13/2019
03/07/2019
03/10/2019
03/19/2019
04/04/2019
04/15/2019
04/21/2019
04/27/2019
05/07/2019
05/13/2019

Western Conference
Western Conference
BOARD MEETING
Special Event
BOARD MEETING
Daylight Begins
Special Event
BOARD MEETING
Special Event
ESTER
PASSOVER
BOARD MEETING
Books and Brunch


CLICK HERE TO
DOWNLOAD or PRINT
FULL CALENDAR


---

News Update:
---
---
Photos from UOW 2019


---
Photos from FALL LUNCHEON and BOUTIQUE 2018 with FRITZ COLEMAN


---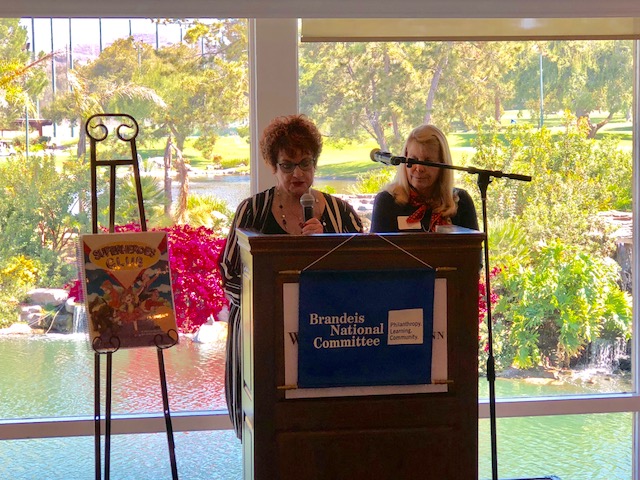 (photo on the left: event orginizers: Nancy and Sue)

BOOKS and BRUNCH 2018 - Women Writers in Entertainment
Books and Brunch was held on May 9th at the Westlake Inn. A sell out crowd came to hear three women with a lot to say about their experiences in the television and movie industries.
First up was Madeleine Sherak who detailed her Cinderella story as the daughter of a Holocaust survivor who emigrated to New York, earned a PhD,raised a family, and got to experience the glamour of Hollywood before becoming a producer and author in her own right.
Gayle Abrams spoke about how she had to conform to male television writers' ideas of how a woman should comport herself before deciding to speak out, be true to herself, and finally become the novelist she wanted to be.
Beverly Gray regaled the audience with the very entertaining story of the making of 'The Graduate' on its 50th anniversary.
Thanks to all who helped put on the event and attended, helping us to raise money for medical research at Brandeis.'
| | | |
| --- | --- | --- |
| Gayle Abrams | Madeline Sherak holding her book | Beverly Gray |
---
Photos from Chis Denove lecture - March 2018

More than 100 people attended our recent event heald at The Thousand Oaks Library. This enthusiastic audience heard a stimulating and enjoyable presentation by Chris DeNove. Chris has analyzed tens of thousands of juror verdicts from some of the most interesting cases imaginable. He is also a frequent contributor to networks such as CNBC and Fox business News.His analysis and projections of possible jury outcomes, informs attorneys in their court cases and in jury selection.
This presentation was fascinating, informative and an incredible source of discussion for our Legal Puzzlers and Current Events groups.


---