Welcome to Brandeis Conejo Valley
"National Chapter of the Year" 2008, 2010, 2012, 2015, 2019 and Louis Brandeis Award 2018
BNC -
A BRIDGE FROM THE PAST TO THE FUTURE
Last Updated: September 12th, 2021
---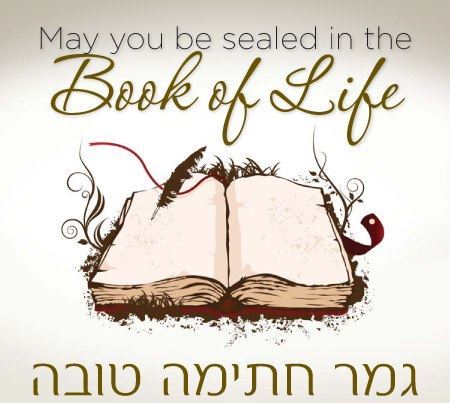 To all our friends and families -
Happy, Healthy New Year
Shana Tova and Gmar Hatima Tova!
Brandeis Conejo Valley Chapter
---
---

Renew Your Membership Online
It's quick and easy!
Click here
, complete the form, pay and you're done..
---
---
Message from your Presidents: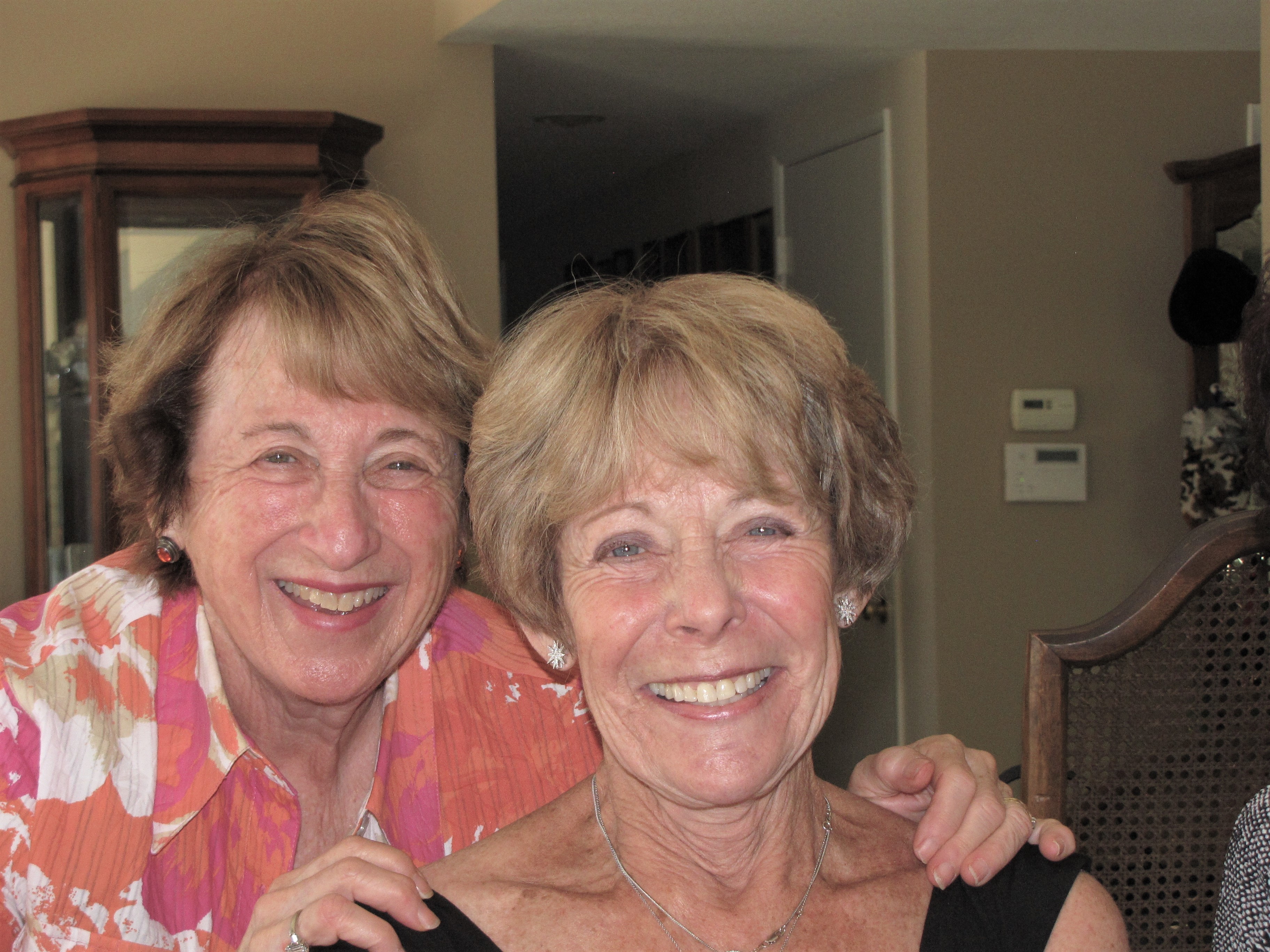 Dear Members,
Jessie and I are honored to be again in the forefront of such an esteemed and progressive chapter. What we are still experiencing is a challenge for all charitable organizations.
Therefore our main goals for 2021-2022 term, under these circumstances, continues to keep members connected, providing creative alternatives, and supporting the objectives of BNC.
Accomplishments for the Past Year
This has probably been the most challenging year in history but to borrow a phrase from a well-known song, "We will Survive!" As our first year started we were experiencing the first limitations of Covid. We met these challenges (and by "we", I include everyone on the board and in this chapter) we adapted to the concept of "zooming". Many of our members were reluctant or at a minimum uncomfortable with zooming, however we sought support from some of more knowledgeable members to pair with those needing support.
We also tried (and succeeded) to maintain most of our study groups and put "On the Town" groups on hiatus. In fact we were pleasantly surprised that we still have one of the most active study groups within National.
One of the most impressive outgrowths of the pandemic was the participation and support provided by National We had frequent meetings with all the other 36 chapters, sharing successes and failures as well as unique approaches on surviving this last year. We formed different teams to study various aspects of Brandeis and Frona and I were assigned to fundraising. The interaction with National was especially helpful with programming; we realized that zooming allowed us to share the opportunity of viewing whatever programs were of interest to us, (without having to pay for the speaker, the air plane transportation and accommodations) and in fact will continue to utilize this technique with the help of National's expertise in programming.
We met these challenges with an increase in men's study groups, and a program that they sponsored as well creating new groups.
We excelled in several projects under Social Justice, Shoes for the Souls, Feeding the Hungry, Knitting hats and scarves for Hope of the Valley, and Socks and Underwear Hope of the Valley Shelters.
We also eliminated the extra cost for Members of Other Chapters, thereby encouraging Brandeis Members to take advantage of our study groups without being penalized.

FUTURE PROGRAMMING Hope for the Future
We hope to find a location to hold our board meetings. We hope to ease into eventually meeting in person and until that time want to encourage a hybrid form of meeting with zooming for those who do not feel comfortable meeting in person. We hope to foster study groups and will tentatively plan on programming and luncheons the earliest being the winter of 2021 or the spring of 2022. We will look forward to more social justice activities and cultivate the contributions of both new and sustaining members.
Frona DeCovnick co-president (click here to send email directly to Frona) kidzathart@aol.com
Jessica Pearlman co-president (click here to send email directly to Jessie) jbrra@aol.com
---

Introducing the Jewish Experience
Today, as we prepare to welcome the beginning of the Jewish New Year, I am delighted to announce the launch of the
Jewish Experience
, Brandeis' new website and multimedia platform dedicated to exploring Jewish history, culture, and traditions. It features exciting faculty research, alumni profiles, and thoughtful examinations of questions of identity and community relevant to Jews — or anyone interested in Jewish issues.
Brandeis is distinct from all other colleges and universities. Envisioned as a 'gift from the Jewish community to higher education,' it was founded as a symbol of freedom and opportunity to all academically-qualified individuals, no matter their background. At a time when Jews were prevented from attending the leading colleges and universities in the United States, the vision that underpinned our founding was radical. Engaging and honoring this founding ethos is an integral part of the Framework for the Future. As part of this endeavor, the Jewish Experience seeks to illuminate the great wealth of scholarship and knowledge about Jewish issues and Judaism — in all its diversity and richness — on campus and beyond...
TO VISIT THE WEB SITE - CLICK HERE!
Ron Liebowitz
President

---
Honoring Our History
The Honoring Our History
campaign strives to fulfill the principles of access, inclusivity and tolerance by digitizing social justice collections that are in the archives at the Brandeis Library. For the past few months we have highlighted many collections such as the
Leo Frank
letters and newspaper articles,
The Helmut Hirsch Collection
,
The Spitzer Family Papers
,
The Jewish Feminism Collection
and the
University Photography Collection
. They are stories about injustices to be told and shared worldwide.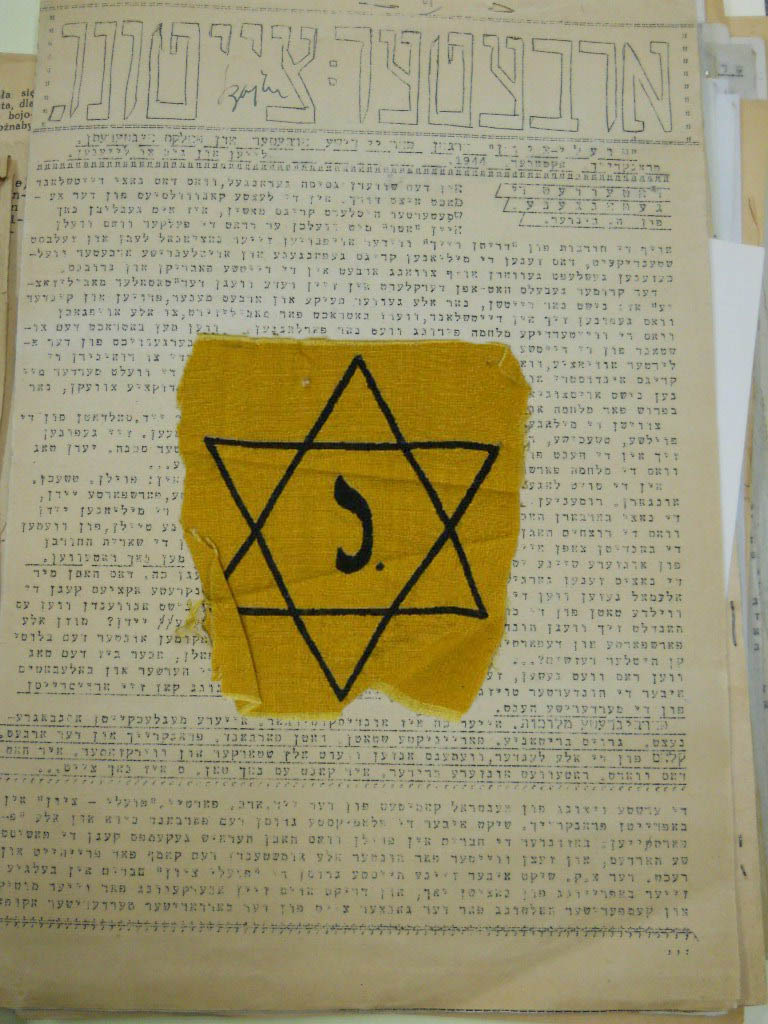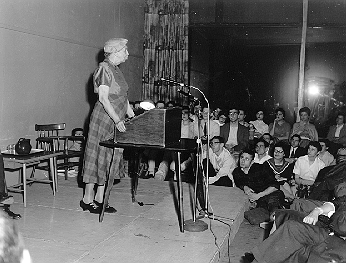 Jewish Resistance Collection.
This Collection contains a range of materials including underground publications, both printed and mimeographed, by German Communist and French Jewish resisters to the Nazi regime before and during WWII: International post-war reports (governmental and non-governmental ) documenting the persecution and extermination of Jews and the course of several Nuremberg trials: Nazi paraphernalia, and contemporary post-war magazine and newspaper articles on Jewish resistance during the Holocaust.
In many homes there are boxes and albums inherited by family members that are fading and deteriorating with the passage of time. So many faces and past celebrations that can no longer be identified. What are the forgotten stories that surround these photos? A family history lost forever.
Please support Honoring Our History!
For more information please contact
Campaign Chairs Carol Kern,
cak8219@gmail.com
and/or Judy Levine,
judithlevine43@yahoo.com
---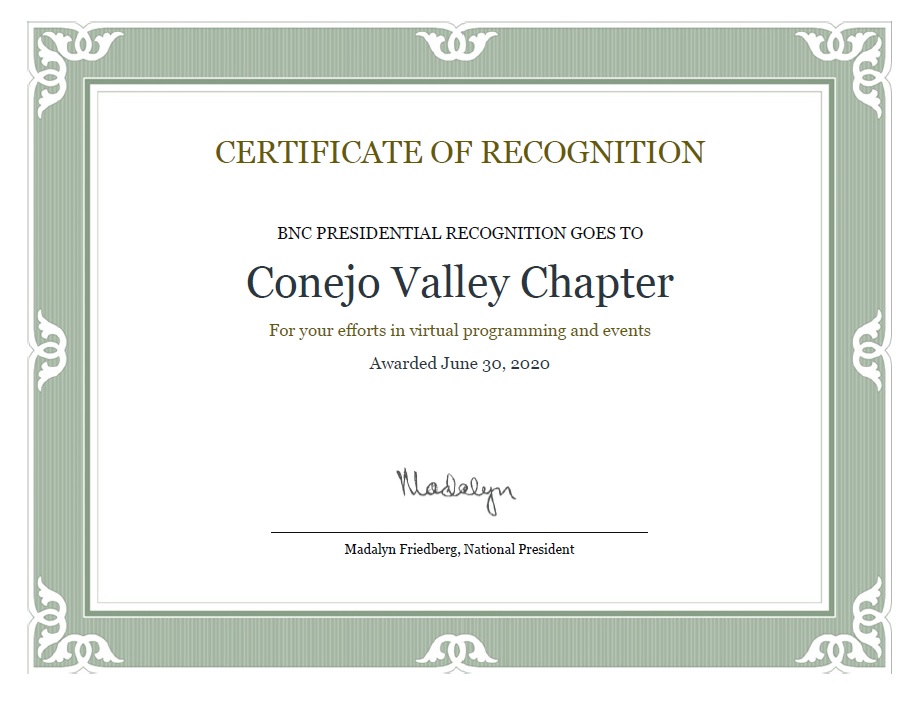 The words, "The Times they are a-Changin" (Bob Dylan-1964) certainly have taken on a whole new meaning in recent months. And the Conejo Valley Chapter is changing right along with them.
We are proud to say that we are on the front lines of technology as more than 50 of our study groups are meeting virtually using Zoom. Not only are we enjoying these virtual meetings, we're saving money on gas!
Our efforts have been recognized by the BNC with these kinds words from Madalyn Friedberg, BNC National President.
Dear Conejo Valley chapter,

It is my honor to formally recognize your chapter for outstanding efforts in virtual programming. When the pandemic started and our in-person programs came to a pause, your chapter was swift in getting onboard with virtual programs and events. I want to congratulate you on your efforts in putting together these events! We hope to see many more virtual events from you in the future. Your chapter stands as an example to other chapters. Please find attached your special presidential commendation and share with your chapter board, you earned it!

Wish warm regards,
Madalyn
Madalyn Friedberg
National President, Brandeis National Committee
---
To renew your Membership:
CLICK HERE,
and you can renew easily, on line.
Contact Florence Prushan for Tributes (email directly)
florenceprushan@me.com
.
---
CLICK HERE
TO DOWNLOAD or PRINT FULL CALENDAR